The Rotherham South Neighbourhood Team have done some great work recently within the community, alongside our essential local partners.
In May, we took part in "Op Sceptre", a targeted week of action to fight knife crime in South Yorkshire. We started off by working with South Yorkshire Fire and Rescue and arranged a litter pick alongside the SYFR Cadets. We started at the allotments near Beresford Road, then went to Maltby Crags. Overall, we collected almost 50 bags of rubbish and arranged for them to be collected by the Council the following day. We were pleased that no discarded or hidden weapons were found on the day, however, we removed a lot of rubbish and fly-tipping.
On 5 May, a joint operation with Rotherham Council was arranged to check waste carrier licenses on Tickhill Road and to also check the speed of the vehicles. This was due to reports from members of the public regarding worries about illegal fly tipping and speeding. On the day, no vehicles were found to be speeding and all licences were in order.
On 14 May, the team carried out another "Operation Keepsafe". It followed a similar format to last month and again we patrolled Maltby on foot with PC's, PCSO's, Youth Outreach and Early Help Workers. We again targeted hotspot areas and we were able to engage with a lot of the young people using the parks and got to know our local community better.
Whilst on the way to a separate incident, PC's came across two off-road bikes. Both were issued with 171 Notices, meaning that the next time the bikes or riders are spotted using the bikes in a manner they shouldn't be then the bike can be seized. This is a very useful tool for us and enables us to take swift action against nuisance bikes.
That same day, Officers stopped a car on Muglet Lane and spoke to the occupants. After speaking with them and checking Police systems, the occupants were reported on summons for various driving offences and the car was seized. Whilst there, another nuisance vehicle was issued a 171 Notice for Anti-Social Behaviour.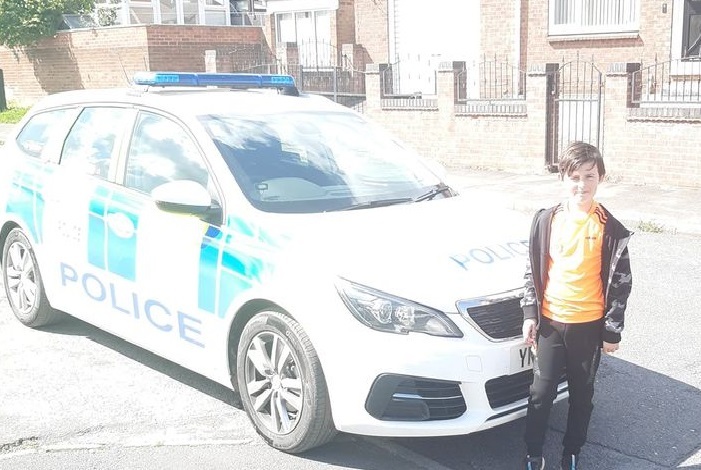 We were also contacted by one Maltby mother regarding her son's birthday. We were told that little Alfie loved to watch Traffic Cops and wanted to be a Police Officer when he was older. We paid him a quick visit (as you may have seen on Facebook), put on the blues and two's and gave him a little birthday excitement!
The team also carried out several drug warrants, which did not result in any arrests but potentially disrupted established supply routes and criminal networks. Community intelligence is essential when requesting warrants from the Courts, so if you have anything to report please do so to the Police or to Crimestoppers. Your anonymity will always be protected.
Within the Rotherham South Neighbourhood Team Maltby and Hellaby Ward are covered by PC Nathan Winder, PC Amy Jolliffe and PCSO Sean Tulley. The two PC's and the PCSO for Maltby are all now able to get out on bicycles in Maltby, you may have already seen us or seen our social media posts!
The Team would love to hear from you, and can be contacted by email at RotherhamSouthNHP@southyorks.pnn.police.uk.
Crime must always be reported by calling 999 (emergency) or 101 (non-emergency), but any comments, information or intelligence or suggestions for us are welcome and can be sent to our email address.