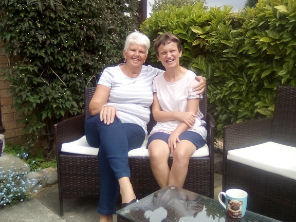 Residents in Rotherham have been celebrating Shared Lives Week in style with events taking place all week across the borough to honour the amazing network of Shared Lives carers.
Events including a treasure hunt in Todwick, walks through Thrybergh Country Park and a final celebration event at Winthrop Gardens focused on the strength and resilience of Shared Lives carers during the COVID-19 pandemic.

Rotherham Council's Shared Lives community is made up of a dedicated network of carers who provide care and support to people over the age of 18 who wish to live independently within their community.

Last week's events celebrated shared experiences and common interests, whilst also taking into consideration the COVID-19 restrictions, ensuring social distancing was maintained, and the number of attendees limited.

The final event at Winthrop Gardens on Friday 18 June took on an unusual format and was hosted in three separate time slots as to adhere to COVID-19 restrictions. Winthrop Gardens have worked closely with Shared Lives over recent years, so it was a perfect way to celebrate the closing of Shared Lives Week, in such a special place.

One of the highlights of the week was a presentation to Miriam Nutt, who has dedicated most of her life to caring for others, including June who has lived with Miriam for the past 42 years and has recently moved to live independently in supported living. Miriam was presented with a bouquet of flowers by Rotherham Council Head of Provider Services, Julie Moore for her dedication and commitment to Shared Lives.

Miriam said: "I would say that it is a privilege to look after someone else's child or adult and to be able to give them love security and affection. I have been a shared lives carer for 22 years after first becoming a foster parent for over 20 years.

"The best part about Shared Lives is the knowledge that you are helping someone to reach their potential and have the support of the shared lives team in doing this.

"Shared lives have given me a purpose and a goal when I needed it at a crucial time in my life, which helped me through a personal tragedy and which has now seen me help and guide the person I have been caring for, for forty years to move on to independence of her own in supported living."

Rotherham Council's Cabinet member for Adult Social Care and Health, Cllr David Roche, said: "Shared Lives is a fantastic scheme which allows those with disabilities the opportunity to be befriended and supported, helping them to live an independent life and enjoy a wider range of opportunities. This is a scheme that Rotherham has taken up wholeheartedly and those volunteers who are part of Shared Lives deserve our warm thanks for all that they do. I am really pleased to be given this opportunity to say my thanks to all those involved!".

For further information or to become a Shared Lives carer yourself, please visit the Shared Lives website.