Resignations of councillors
Published Thursday, 5th February 2015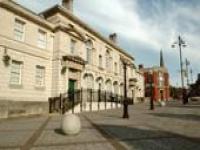 Two further Cabinet member resignations have been announced today.
Mahroof Hussain has confirmed that he has resigned as both a Cabinet member and a Rotherham Borough councillor.
A councillor for the Boston ward, he held the Environment portfolio within the Cabinet.
His Cabinet colleague, John Doyle, also confirmed his resignation as as the Cabinet member for Adult Social Care and Health. He remains as a councillor for the Swinton ward.
Their decisions follow the resignation of Paul Lakin as both Leader and as a borough councillor for the Valley ward yesterday.
The rest of the Council's Cabinet confirmed yesterday (Wednesday) their intention to resign their positions as soon as transitional arrangements are put in place.
The resignations follow yesterday's publication of Louise Casey's corporate governance inspection report and a statement in the House of Commons by Secretary of State, Eric Pickles.