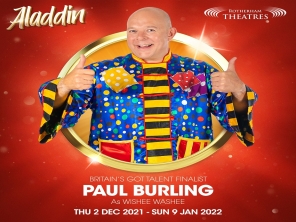 Rotherham Civic Theatre is delighted that panto will be returning to their stage this Christmas with Aladdin, the show that makes everyone's wishes come true!
Aladdin will star Britain's Got Talent finalist Paul Burling as the hilarious Wishee Washee. Paul was a huge success on the television talent show in series 4 and made it all the way to the final with his wide range of impressions of everyone from Harry Hill to cartoon characters and an unforgettable rendition of The Proclaimers '500 miles'. Following on from his success on the show ITV gave Paul his own one-hour special, It's Paul Burling.
Paul is a veteran pantomime performer and is delighted to be making his Rotherham debut in Aladdin this Christmas.
He said: "I have never performed at Rotherham Civic before but I have a few friends who have worked in the venue and they tell me that I will have a great time as the venue and staff are wonderful and apparently the audiences in Rotherham really love their panto and are always up for getting involved."
"I love playing Wishee Washee as he is great fun as he's always involved with all the other characters, especially his mum Widow Twankey. Their double act brings some great comedy moments to the show and can also give me a great opportunity for interacting with the audience and to do a few impressions!
"Christmas without a panto last year was just horrid and I think this year families will be keener than ever to have these shared experiences together. We all need to have a bit of escapism and lots and lots of fun and Aladdin will definitely be delivering these up this Christmas."
Aladdin runs from Thursday 2 December 2021 – Sunday 9 January 2022. To book tickets visit www.rotherhamtheatres.co.uk or call 01709 823621