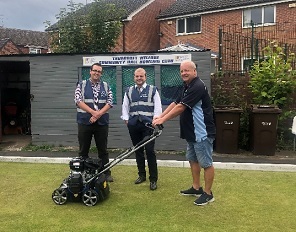 Ward Councillors are proud to support Thurcroft Miners Welfare Institute Bowling Club.
Thurcroft and Wickersley South ward Councillors Zachary Collingham and Thomas Singleton were recently treated to an introduction to bowls at Thurcroft Bowling Club, where they donated £448 from their capital ward budget to fund a new scarifier, enabling the club to maintain its facilities for the benefit of the wider community.
Thurcoft Bowling Club is tucked away behind the shopfronts, alongside Thurcroft Miners Welfare Hall, off Katherine Road. The Club has been running for over 70 years offering coaching, competition and friendship to local people and anyone who wishes to get involved in the sport.
Initially set up for pit families, the Club is a charity run by its members, the youngest, Adam, is just 9 whilst some of the grownups have been bowling at the club for 40 years. The Club is grateful for support from Thurcroft Big Local and Banks Community Fund as well as previous Ward budgets.
The Club plans to reprise a thriving pre-pandemic relationship with local schools, having previously offered children from Willows Special School the chance to try their hand at the game and grounds maintenance, with junior bowls for little hands and child-sized trowels and spades. Club secretary, Martin Cusworth, looks forward to welcoming the children back. "It's great when the school kids come down, we want to get more youngsters involved, and their parents so we can get a junior league together for next year".
The Club have kept in touch and supported each other thought the last 18 months with a constant chatter of emails, texts and phone calls keeping team spirit alive. Leagues have been tricky following reopening, age and illness have taken a hard toll and the club has lost several players. To keep competitions going, players have been adopted from opposing teams on match days to make up numbers. This shows the wonderful supportive spirit within the game but the club are looking forward to being able to field a full team again in future seasons.
Whilst the green is a wonderfully peaceful place to sit for passers-by and spectators, club members are kept busy. Tutoring is offered in the mornings and games are played in the afternoons. The lawn bowls season runs from mid March to the end of September, when the green is then rested for the winter. Anyone who has an area of grass in their own garden will understand the undertaking that is getting a green in pristine condition. In the summer the green is mown 3 times a week and kept watered in dry weather. Volunteers and club members also maintain the spectator's area, gardens and clubhouse. Bowls is an all-weather sport and the club is currently installing covered dugouts recycled from a local football club and there are plans to extend the shelter for away teams and their supporters. Rain rarely stops play at the Thurcroft green due to its construction. Beneath the grass are layers of ash from the old pit tip which give excellent drainage.
Whilst coal heritage underground continues its good work, above ground moss has been a big problem. Club members have previously had to treat patches of moss with weedkiller which damages a relatively large area of the green, leaving bare brown patches which take time to grow back. The new scarifier, will mean the green is in top condition in time to start the new season, as well as cutting down on use chemicals.
The Club are delighted with the new piece of kit, "it will make such a difference. We are so grateful for the support we have received. We now need to get new members down to play". Membership is open to all and the club will make you very welcome, members are around every Saturday 10-12 noon through September and will happily meet anyone by appointment at other times.