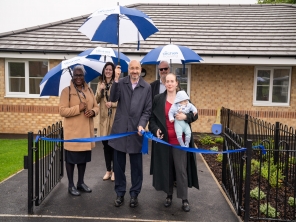 **Partner news** Arches Housing and Rotherham Metropolitan Borough Council celebrate partnership working as more homes are delivered in the borough. In this case ten bungalows spread across four sites.
In this case ten bungalows spread across four sites: Chestnut Close, Craig Walk, Greenwood Close, Hornbeam Road; with all homes having been let through Rotherham Key Choices. These brand new 2-bedroomed semi-detached bungalows built by Keystone Yorkshire Limited feature a large entrance hallway, level access shower room, turfed rear garden with an expansive patio. In addition, in a step towards carbon reduction, each home has its own solar power system which has been designed to require no tenant management. Residents benefit from free electricity; any unused electric is fed into the national grid.
Kay Dickinson, Board Chair for Arches, said "These homes have been many years in the making, and partnership working with the Council and the whole project team has made this project a success. It is therefore fantastic to see them being completed to such a high standard of finish, having all achieved an A energy certificate rating, ready for our customers to move in.
The homes form part of Arches wider growth plans to deliver more high quality affordable homes for rent and sale to diverse communities across the Sheffield City Region."
With grant support from Homes England and support from Rotherham Council the tricky infill sites have been completed, utilising Council land purchased by Arches to create ten new homes.
Councillor Amy Brookes, Rotherham Council's Cabinet Member for Housing, said: "The scheme, in association with Arches Housing Association, has successfully delivered ten much needed bungalows for either older people or people with an assessed medical need in Rotherham.
"We have a large number of people on the Council's Housing Register in need of this type of home. As a housing provider it's essential that we provide appropriate housing that meets people's needs at all life stages.
"We know that the issue of not having suitable accessible housing exacerbates ill-health and hardship. These properties will go some way to meeting that need and helping to improve people's quality of life across the borough."
Arches are looking to continue developing new high quality affordable homes across the Sheffield City Region in the coming years. For further information, please contact Arches on 0114 2288100 or log onto our website www.archeshousing.org.uk