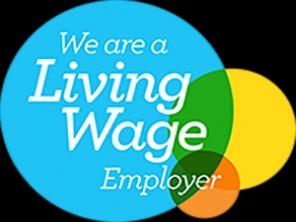 Rotherham Council has been formally accredited as a real living wage employer, Council Leader, Councillor Chris Read announced at the Full Council meeting today (29 September 2021).
It means the Council has joined around 7,000 employers in the UK in being recognised by the Living Wage Foundation (LWF), underlining the authority's commitment to paying its workers a fair wage, supporting the local economy and encouraging other local employers to follow suit.
Being a Living Wage employer formally commits the Council to paying its own lowest-paid staff at a rate determined independently and based on the real cost of living as well as working with its contractors to secure the real living wage to employees providing services on behalf of the Council.
The current LWF hourly rate (outside London) is £9.50 per hour, compared with the Government's National Living Wage rate of £8.72 per hour. The LWF rate is reassessed in November every year, with accredited employers committing to pay the new rate within six months of it being set.
The Yorkshire and Humber region has one of the highest proportions of non-Living Wage jobs in the country (22%), with over 465,000 jobs paying less than the real Living Wage.
Laura Gardiner, Director, Living Wage Foundation said: "We're delighted that Rotherham Council has joined the movement of over 7,000 responsible employers across the UK who voluntarily commit to go further than the government minimum to make sure all their staff earn enough to live on.
"They join thousands of small businesses, as well as household names such as Burberry, Barclays, Everton Football Club and many more. These businesses recognise that paying the real Living Wage is the mark of a responsible employer and they, like Rotherham Council, believe that a hard day's work deserves a fair day's pay."
Further information about the Living Wage is available from the Living Wage Foundation Website.
Visit the website to view the latest job vaccancies at Rotherham Council.