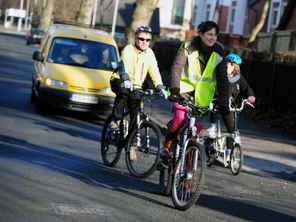 Rotherham Council is asking for feedback on proposals for two schemes to improve provision for cyclists.
Following its recent consultation on the Rotherham Cycling Strategy, and as part of South Yorkshire-wide efforts to improve cycling infrastructure, Rotherham Council is asking for feedback on the proposals for two new schemes.
The schemes will be delivered by Rotherham Council using central government money, subject to approval of funds.
One of the schemes is set to provide a cycle route between Wath town centre and the A633 Manvers Way – with its existing cycle tracks and connections to cycle routes through the Dearne Valley. This will allow direct access between the employment sites and facilities of Manvers and Wath-upon-Dearne.
The other scheme includes improvements on Wellgate, Broom Road and Broom Valley Road to provide better conditions for cyclists, and pedestrian, travelling between the south east of the town and central Rotherham (including its onward rail and bus services). The first phase centres on creating dedicated cycle tracks on Wellgate and Broom Road, between Hollowgate and Boswell Street. A potential second phase would, subject to community support, improve conditions for pedestrians and cyclists on Broom Valley Road and address local concerns about traffic volumes and speeds.
Details of proposed work for both schemes, along with forms for providing feedback, can be found at www.rotherham.gov.uk/consultations until Sunday 7 November 2021.
Rotherham Council's Cabinet Member for Transport and the Environment, Cllr Dominic Beck, said: "Cycling and walking provide low-cost travel, improve health and wellbeing and help protect the environment - so investing in active travel creates lasting benefits for everyone. But we need people's feedback to ensure we are doing this in the best way for local residents, businesses and road users – so I urge people to look at the proposals and take part in the consultations."
Funding for these schemes includes money from the Department for Transport's Transforming Cities Fund, from which South Yorkshire Mayoral Combined Authority (previously Sheffield City Region) secured £166 million in March 2020. The money is being be used to fund several schemes across the region to reduce journey times, cut congestion, improve punctuality and reliability, and bring about a wide range of benefits associated with active travel. The schemes will be delivered by local authorities and South Yorkshire Passenger Transport Executive. There are eight schemes proposed in Rotherham – details of which can be found at www.rotherham.gov.uk/active-travel-public-transport