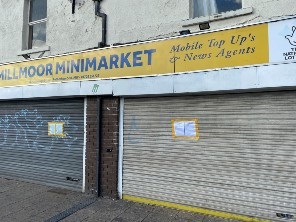 A shop in Rotherham has been ordered to close after a rat infestation was discovered in the store.
Environmental Health Officers visited Millmoor Minimarket / Store, 157-159 Masbrough Street in Rotherham to investigate an alleged rat infestation and found rodent droppings on the floor in the shop and under shelving units.
A dead rat was seen which had been caught in a trap on top of the suspended ceiling and they determined the rat infestation was a significant risk of food contamination. They concluded that the health risk condition had been fulfilled in that there was an 'imminent risk of injury to health' at the premises.
A Hygiene Emergency Prohibition Notice and a Notice of Intention to apply for a Hygiene Emergency Prohibition Order was served on the food business operator, Alan Jamal Abdullah requiring the shop to close.
At the hearing at Sheffield Magistrates Court on 5 October 2021, District Judge Redhouse confirmed the Hygiene Emergency Prohibition Order and agreed with the actions of the Environmental Health Officers to immediately close the premises following the inspection, due to the presence of rats resulting in an imminent risk to health. The food business operator failed to attend the hearing.
Rotherham Council's Cabinet Member for Transport and Environment, Councillor Dominic Beck, said: "Food business operators have a legal duty to keep their premises hygienic and any failure to do so will not be tolerated.
"Regular checks were made to the premises since the Notices were served to ensure they remained closed. The premises were revisited on 7 October 2021 and allowed to reopen after the Environmental Health Officers were satisfied that the health risk condition had been removed."