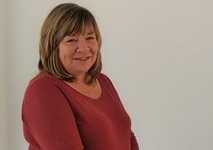 A social worker from Rotherham has been selected as a finalist in the prestigious Social Worker of the Year Awards 2019 for her outstanding work supporting care-leavers in Rotherham.
Louise Pashley, who manages the Leaving Care Team at Rotherham Council has been shortlisted in the Team Leader of the Year, Children's Services category.
The Social Worker of the Year awards is the leading celebration of its kind in the social care sector, and recognises the achievements and successes of the profession's most innovative and dedicated social workers in the country.

Louise has worked for Rotherham Council for 26 years. She was born and bred in Rotherham, has raised her own family in Rotherham and spent her working-life helping families and young people in Rotherham.
She manages one of two teams of Social Workers and Personal Advisors in Rotherham who support young people leaving care, aged 16 - 25. They provide a wide range of services to young people leaving care, including help with finding employment or continuing studies, making a home, managing finances, emotional support and learning the responsibilities of being an adult.
During her time in post, Louise has played a significant role in moving the Leaving Care team from being classed as inadequate by OFSTED in 2014 to being rated as outstanding, just four years later. During their inspection, OFSTED described the Council's Leaving Care teams as skilled, tenacious and persistent, praising their high aspirations and having high expectations for our young people.
Sally Hodges, Interim Director of Children and Young People's Services at Rotherham Council said "Louise is very humble about her nomination and all that she has achieved over many years, but I am thrilled that she is being recognised and appreciated on a national stage, just as she is by her colleagues and the hundreds of young people from Rotherham she has helped - many of whom are now adults with children of their own.
"Louise lives and breathes Rotherham and is passionate about her job and getting the best for young people. Her approach is very much about treating every young person she comes into contact with as if they were her own, handing out tough love when it is required but always being supportive, a confidant and a friend."

A total of 94 practitioners, social work teams and organisations from across England have been shortlisted in 16 categories for this year's Social Worker of the Year Awards .

The winners will be revealed at a prestigious awards ceremony in London on 29 November, which is the leading celebration of its kind in the sector and recognises the success of the profession's most innovative and dedicated social workers, teams and organisations.
The ceremony will be hosted by TV chef and emotional wellness advocate, Lorraine Pascale, who spent some of her early life in foster care.
Rotherham Council's attendance at the event has been sponsored by Sanctuary Personnel , Reed Recruitment and Eden Brown Synergy.