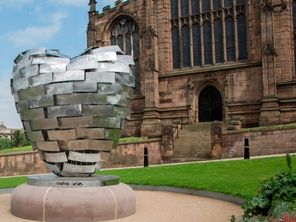 Rotherham Council has had two of its three bids for funding from the Levelling Up Fund approved by the government.
Almost £40million has been agreed to help improve Leisure Economy and Skills in the borough and Rotherham Town Centre.

Rotherham Council Leader, Councillor Chris Read, said: "We very much welcome the news in the budget that two of the three Levelling Up Fund bids from Rotherham Council are to be supported by the government, supporting our agenda to build a better borough.

"This will provide much needed funding for developments in and around the town centre, at Rother Valley Country Park, a new Skills Village at Gullivers Valley Theme Park, Maltby Academy and Wentworth Woodhouse.

"We continue to wait for formal government advice in relation to these bids, and also our third bid which would have supported improvements in Dinnington and Wath, but which was not included in the Chancellor's announcement."

The Leisure Economy and Skills bid for £19,990,000 aims to build a new Leisure industry that responds to the challenges of economic recovery and health and well-being. It includes funding for improved stables at Wentworth Woodhouse, a new café at Thrybergh Country Park, new exhibitions at Magna and a new Village Centre at Rother Valley Country Park.

The Skills package will underpin the development of these four major attractions through the creation of a new Skills Village at Gullivers Resort focusing on training, development, and accreditation within the hospitality and leisure sector. Bridging the gap between school and employment, Maltby Academy Trust will invest in the redevelopment of the former Maltby Grammar School to create an incubator space for training, apprenticeships, and start up support in the leisure and hospitality sectors.

£19,549,059 bid for Rotherham Town Centre aims to continue the regeneration of Rotherham Town Centre focussing on two key areas, the Riverside Residential Quarter and the Leisure and Culture Quarter. This investment will complement and add value to the investment from the Future High Street Fund and Towns Fund.

Announced in the Government's Spending Review, the Levelling Up Fund aims to invest in infrastructure that improves everyday life across the UK.

The £4.8 billion fund will support town centre and high street regeneration, local transport projects, and cultural and heritage assets.

The Council has the opportunity to bid again on unsuccessful outcomes in later rounds.