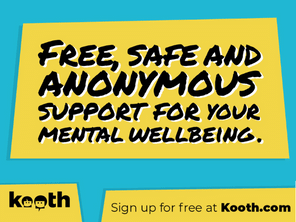 Rotherham Council, in partnership with NHS Rotherham CCG, is launching a new free digital counselling and support service for children and young people.
The partnership has commissioned Kooth to provide safe and confidential support to children and young people aged between 11 and 25 years of age, to help combat a rising tide of mental health issues in the wake of the pandemic.
Kooth is available immediately across the Rotherham area - there are no waiting lists or thresholds, which means children and young people can start to use the service once they have registered. Accredited by the British Association for Counselling and Psychotherapy (BACP), Kooth can be accessed using a computer, smartphone or tablet device.
The decision by Rotherham Council and the CCG to offer the service comes at a time when children and young people are increasingly seeking support for their mental health and wellbeing. According to data from Kooth - the Pulse Report 2021 - as a direct result of the global pandemic Kooth platform usage rose by a staggering 42% amongst children and young people. The key findings from the study also revealed that:
For our under-18 population who have presented with any issues, Kooth saw a 39% increase in those presenting with suicidal thoughts and a 27% increase in those presenting with self-harm.
In 2020, Kooth experienced a 51% increase in young people presenting with eating difficulties.
For Black, Asian and Non-White young people, there was a 83% increase in sleep difficulties, a 71% increase in school/college issues and a 25% increase in feelings of sadness.
As a trusted and proven partner of the NHS, the Kooth platform offers a safe and confidential means for children and young people to access online support from a team of fully trained and qualified counsellors and emotional wellbeing practitioners. Those using the service will be able to receive one-on-one, anonymous counselling sessions 365 days a year. Sessions run from midday to 10pm on weekdays, and from 6pm to 10pm at weekends and can be booked in advance or accessed as a drop-in instant text-based chats.
In addition, children and young people will have access to peer-to-peer support through pre-moderated discussion forums and can read and contribute to Kooth's mental health and wellbeing magazine. Kooth can also be used to keep an online journal and track their wellbeing via an interactive goal tracker.
Councillor Victoria Cusworth, Cabinet Member for Children and Young People's Services, explained: "The mental health needs of children and young people have increased significantly over recent years, and the pandemic has exacerbated this. We recognised that we needed to take action and turned to Kooth for support. It's great to have such a positive and valuable resource to help Rotherham's children and young people with any mental health and wellbeing concerns they may have. Ensuring that they have access to early preventative care and support without any prior thresholds to meet."
Dr Lynne Green, Chief Clinical Officer at Kooth added: "It's clear that the pandemic has accelerated the need for additional support services for our children and young people. And it is imperative that anyone seeking mental health support gets help at an early stage before their needs escalate. We encourage the children and young people of Rotherham to make the most of the services, whether that's joining the live discussion forms or reading through the library of articles. In addition, our friendly team of experienced counsellors are here to provide support as and when it is needed. "