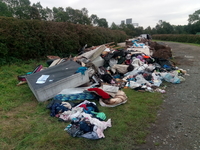 Two members of the same family have been successfully convicted following Rotherham Council's longest running investigation into fly-tipping.
Mr Horace Piggott, also known as Caesar Piggott, was sentenced to two years imprisonment for numerous fly-tipping offences and connected fraud offences; his son, Deano Piggott, was given a 12 month community order with up to 15 days rehabilitation activity and 120 hours unpaid work, also for fly-tipping offences.

In the same set of proceedings, Joanna Galvin was also sentenced to eight months imprisonment, which was suspended for 12 months with up to 15 days rehabilitation activity and 80 hours unpaid work for money laundering directly linked to the waste offences.
Mr Horace Piggott advertised his waste collection services via leaflets using a number of false names, including Michael Smith and D Price. Local residents paid for their waste to be collected, from which any valuable items such as scrap metal were removed and sold, before fly-tipping the remaining waste in country lanes in Rotherham, North East Derbyshire and surrounding areas. Any money obtained from the sale of the scrap metal was then paid through Johanna Galvin's bank account.

The offending extended over three local authority areas with Rotherham Council leading a joint prosecution; working with North East Derbyshire to investigate and present evidence to the Crown Court.
The extent of the fly-tipping by these individuals has been substantial and has been ongoing for an extensive period of time. The size of the fly-tips has on some occasions completely blocked lanes creating severe risks to road users and the cost of cleaning up the fly-tipped waste has been substantial for the Council. It is believed that the defendants were earning a large amount of money from their illegal activity and this is now subject to a financial investigation.
Judge Thomas QC commented that Horace Piggott had shown a persistent disregard for the regulatory regime by continuing to fly-tip, despite the Council having alerted him to the fact that he was being investigated and despite the Council having seized 15 vehicles. The judge also commented that the offending was deliberate with significant monetary loss to the councils involved.
Numerous attempts were made by the authorities involved to stop the defendants from fly-tipping, including undertaking what it believed to be the largest seizure of vehicles associated with fly-tipping activity in the UK. In January 2018, Rotherham Council seized ten commercial vans from the defendants and a further five vehicles have been seized since. Despite the attempts made by the authorities, the fly-tipping continued. Rotherham Council carried out a major initiative to catch the fly-tippers, tracking waste back to residents and businesses which had produced it. Rotherham Council also worked closely with South Yorkshire Police to apprehend the offenders.
Rotherham Council's Assistant Director of Community Safety and Street Scene, Tom Smith, said: "This is a great result for all the staff that have been working hard on this case. The joint operation is one of the largest of its kind. It cost the council over £160,000 a year to clear fly-tipping in the borough. We will continue to use all available legislation to catch and prosecute those who put others at risk by illegally disposing of their waste.
"Legitimate waste removal companies will have waste carriers licences and a real business address. They will always offer receipts for the waste and be able to explain where it will be disposed. Where residents go for the cheap unofficial option to dispose of waste, they could also be committing an offence and can be prosecuted."

Mr Horace Piggott was also made the subject of a 10 year Criminal Behaviour Order banning him from collecting and disposing controlled waste or owning any vehicles with the purpose of collecting controlled waste. Additionally, he was banned from advertising waste collection services, including on social media.