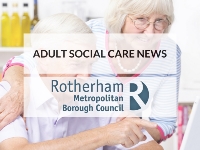 Rotherham residents are being warned to be vigilant following a series of incidents where bogus callers have targeted vulnerable people across the borough.
Rotherham Council is working with South Yorkshire Police after receiving reports of bogus callers targeting people and claiming to be part of the Rothercare team or posing as housing wardens.
In some instances, the callers presented cards that looked like official documents but were not related to the Rothercare service.
All residents are being urged to carefully check the credentials or documents of any visitors and, if unsure, contact the Rothercare team using the equipment in their homes.
Rotherham Council's Director of Adult Care, Housing & Public Health, Anne Marie Lubanski, said: "We issued warnings to residents as soon as we became aware of the bogus callers targeting Rothercare residents and are working with police to swiftly apprehend these individuals.
"I urge everyone to make sure visitors have valid identification and to push the button and contact the Rothercare team if you have any concerns. They will be able to check for you and provide any assistance you need."
If you have any concerns about bogus callers, you should also contact police by calling 101. If you need assistance to do this, contact the Rothercare team who will report the matter to police for you.