New decision-making arrangements agreed
Published Thursday, 23rd April 2015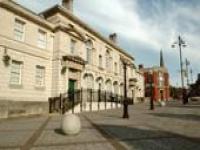 Details of how decisions will be made by the Government-appointed Commissioners overseeing the Council – and how local people can get involved – have now been agreed.
Each of the five Commissioners will consider significant decisions in their own areas of responsibility, working alongside elected members and senior managers.
Councillors, local people and other interested parties will be invited to have their say on these decisions – to be known as 'minded-to' proposals – and a final conclusion will only be reached once their views have been taken into account.
Commissioner Sir Derek Myers, Lead Commissioner, said that retaining the principles of local democracy by ensuring an open and transparent decision-making process is a priority.
"These are unprecedented circumstances, working outside the usual rules of local democracy and decision-making, but it is absolutely crucial that we are open and accountable in delivering services to the people of Rotherham. We will be clear about what we are doing, and why we are doing it," he said.
"Each Commissioner has a different role and responsibility and, crucially, we can take decisions both as individuals and as a group. This gives us the ability to work in a way which is very different to the previous Cabinet system, i.e. without a rigid set of public meetings as a group – allowing for speedier decision-making to underpin progress across services.
"I want to be clear however, that we will not take any decisions without the chance for councillors, local people and other interested parties to have their say, with the exception of those deemed to be urgent in the public interest."
Under the new system elected members, members of the public and interested parties have five days to put their views forward.
Decisions which would have previously been made by Cabinet, and those relating to the Licensing function, will now be made as follows:
The relevant Commissioner will consider a report from senior officers, and will determine a proposal which they are 'minded to' support. This minded-to proposal will be sent to relevant elected Members, and will also be published on the council's website.
People can then make comments on proposals within five working days, and views will be taken into account before a final decision is made.
The Commissioner's roles and responsibilities, together with how they will consider decisions, are summarised below:
Managing Director, Commissioner Stella Manzie, is the only full-time Commissioner. Her role is two-fold – working to lead the day-to-day operations of the council, and also acting as a decision-making Commissioner. In relation to the decision-making role, Commissioner Manzie considers decisions about key council services. This includes finance, education, environmental services like street cleansing and waste, corporate governance, public health and the day-to-day running of housing and neighbourhood services. These will be considered at fortnightly meetings.
Commissioner Julie Kenny leads on services including economic growth, regeneration and meeting future housing needs, including the Local Plan and the Housing Growth Plan. Commissioner Kenny will also oversee the council's relationships with partners. Decisions will be taken at monthly meetings.
Commissioner Mary Ney leads on decisions relating to licensing, including taxis – previously those taken by the Licensing Board and related committees. These will be taken at a monthly meeting alongside members of the Advisory Licensing Board Committee or relevant sub-committee. Commissioner Ney also leads on issues around community safety and criminality, and will liaise with the police, including on the issue of child sexual exploitation and ongoing investigations.
Commissioner Malcolm Newsam has responsibility for Children's Social Care, and will hold fortnightly meetings.
Commissioner Sir Derek will sign off all major council strategies, but will not usually take any operational decisions.
Full details of this process, as well as the roles and responsibilities of each Commissioner have now been published in a series of key documents on the Council's website.
Other key points to note include:
Commissioners can take urgent decisions without the five day public consultation period if needed, but the reason must be outlined in the report and either Commissioner Sir Derek or Commissioner Manzie must have been consulted.
Commissioners can consider confidential information, in line with what would legally be 'information exempt from publication' under local government legislation.
Commissioners may call public meetings on issues which are of significant public interest.
The Commissioners have also set out how they will work with elected members.
Led by Council Leader, Cllr Chris Read, a new Advisory Cabinet is now in place. They will act in an advisory capacity only, in support of the Commissioners.
Decisions usually approved by Full Council – including the annual budget-setting – will remain unchanged, as does the operation of the Planning Board, Standards Committee and Audit Committee.
The Council's scrutiny panels will not act as they did previously but the Commissioners will consider the future role of scrutiny, for consideration by Full Council on 22 May 2015.
Commissioner Sir Derek added: "Our aim is to return Rotherham to a healthy democracy as soon as possible, and working with elected members throughout this process is crucial. We will consult with them, and we will listen - and together we will strengthen the local democratic process to underpin a strong future for this town."