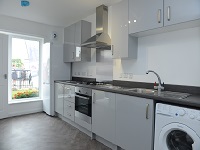 People signing up to buy a brand new home through Rotherham Council's shared ownership scheme can be confident they are signing up for the best scheme of its kind in the country.
The Bellows, Rotherham Council's shared ownership development at Rawmarsh, was named as the Best Shared Ownership Development (urban) at the prestigious Inside Housing Development Awards last week.
On winning the award, the Council was praised for using compulsory purchase order powers to buy what was a disused shopping centre and a multi-storey car park which was once a hot-spot for anti-social behaviour.
The Council's Strategic Housing and Development Team beat off tough competition from private sector organisations as well as housing associations at the national event, which showcases the very best in new housing across the country.
Rotherham Council's Assistant Director for Housing, Tom Bell, said: "Winning this major national award, against significant competition, recognises the Council is well on track with its ambitious plans to build more homes in the borough, as well as deliver much needed regeneration and affordable family housing to Rawmarsh."
The Council's Shared Ownership scheme gives people the opportunity of owning their own brand new home without the need to buy a home outright. The scheme allows customers to buy a share they can afford – of between 25 per cent and 75 percent – and pay rent on the rest. Then, over time they have the option of buying more shares in the property – all the way to outright ownership.
In partnership with Houlton Construction, the Council has built a total of 58 new homes at the site, 30 of which are now available to buy through the Shared Ownership scheme. They include 22 two-bed houses, six three-bed houses and two are two-bed wheelchair accessible houses.
Tom Bell added: "With the support of Homes England and partnership work with Houlton Construction and Crucible Lettings, the Council has created a fantastic scheme that Rotherham can be really proud of.
"The Bellows development will help to ensure that more children and families have the best start in life and that more adults feel secure, responsible and empowered and live in strong communities where opportunity, prosperity and the chance to plan for the future is available to all."
To find out more about buying a new home at The Bellows and Shared Ownership: