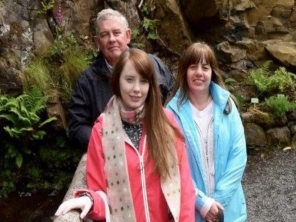 Christmas can feel very different without family around to share the magic.
Michelle (54) and her husband Paul (64) - who have been foster carers for 10 years - have kept the joy of Christmas alive through their work with Fostering Rotherham.
Michelle and Paul started fostering to create a welcoming environment for children in care all year round. Michelle said: "I can't imagine having to go and live in someone else's house, so for children to know who they're going to, get to know the family- that has got to feel so much better for them."
Michelle and Paul are "Mockingbird Hub leaders", which means they offer daytime and overnight (or "sleepover") care to ten different fostering families. This makes them a central part of many Rotherham teens' lives who enter foster care, providing support and guidance. Michelle reflects that, "It feels like an extended family. I mean me and Paul feel like we've got 16 grandkids. It's a lovely feeling."
The couple has offered help to two birth siblings who have been placed separately with two different foster families. Michelle and Paul offer these girls a caring third "sleepover" house so they can spend time together. It's the only time the siblings get together, and is vital for them to stay in close contact with their family. Michelle says that because of these meet-ups, "the sisters now are really close. They text and chat to each other all the time and that's been absolutely fantastic to be able to look back on … that's probably one of my proudest things."
Michelle also runs a youth club for looked after children in Rotherham, where young people can meet to take part in activities and talk to others who are going through similar experiences. Michelle said, "I remember the incredible progress made by one of the many young people who started attending and chatting to other children there. His school was thrilled with his increased confidence. The reason? In his own words: "I now have friends where I had none." "
At this time of year and around Christmas Michelle and Paul work tirelessly to make it a magical celebration for the foster families. Former Family Liaison Worker, Kelly, worked with the couple and was in awe of their efforts: "Last year, they created their very own Santa's Grotto in their back garden. It was beautifully decorated, with a Father Christmas and elf to hand out gifts. There were gifts for the children and for the foster carers! Everyone had an appointment to meet Father Christmas (at a social distance of course!) The carers definitely go the extra mile to make important celebrations extra special."
Michelle is even happier this year that she can celebrate with all of the fostering families together. Santa will of course be returning, this year to Michelle's youth club laden with Christmas Eve boxes for all of the children.
This Christmas, Rotherham Council is urging anyone inspired by Michelle and Paul's story to consider giving the gift of a loving home to a looked after child. They can do this by joining Rotherham's thriving community of foster carers who are helping to change the lives of Rotherham's most vulnerable children.
Suzanne Joyner, Strategic Director of Children's Services at Rotherham Metropolitan Borough Council, says: "It's so important for children to spend Christmas celebrating, and Fostering Rotherham works hard to make sure they'll also have a caring home to live in all year round. As well as providing a change of environment for the children, initiatives like the Mockingbird Hub are great for our fantastic foster carers too, as a way of meeting other carers and enjoying some downtime while the children are staying elsewhere."
Michelle encourages anyone considering fostering to find out more: "Every child should grow up having unconditional love from an adult. That's what fostering is about."
Find out more about fostering
Interested readers can book an information call on the Fostering Rotherham website, or read more information about fostering here: www.fosteringrotherham.com/join-us.
Alternatively, they are welcome to call 01709 285466 to speak to one of our advisers.