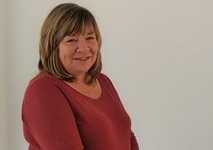 Louise Pashley of Rotherham Council has been named as Britain's best social worker.
Louise, who manages one of the Council's Leaving Care Team was shortlisted in the Team Leader of the Year, Children's Services category at the prestigious Social Worker of the Year Awards 2019, for her outstanding work supporting care-leavers in Rotherham.
Not only was Louise named as Team Leader of the Year at the ceremony in London on 29 November, she also scooped the overall Social Worker of the Year accolade, contested by the winners of the 16 categories.

The judges decision to select Louise as the overall winner was unanimous. They praised her strength of character, impressive leadership and unwavering dedication to her hometown.

James Rook, Chief Executive of the award's headline sponsor Sanctuary Personnel, said: "Louise had everything we were looking for in the winner of the Overall Social Worker of the Year award. She clearly lives and breathes social work and what shines through is her dedication, compassion and willingness to 'go the extra mile' for the young people she works with. She is an inspiration to us all."

See the Judges' comments in full
Louise has worked for Rotherham Council for 26 years. She was born and bred in Rotherham, has raised her own family in Rotherham and spent her working-life helping families and young people in Rotherham.
She manages one of two teams of Social Workers and Personal Advisors in Rotherham who support young people leaving care, aged 16 - 25. They provide a wide range of services to young people leaving care, including help with finding employment or continuing studies, making a home, managing finances, emotional support and learning the responsibilities of being an adult.
During her time in post, Louise has played a significant role in moving the Leaving Care team from being classed as inadequate by OFSTED in 2014 to being rated as outstanding, just four years later. During their inspection, OFSTED described the Council's Leaving Care teams as skilled, tenacious and persistent, praising their high aspirations and having high expectations for our young people.

Responding to the award, Louise Pashley said: "I know it sounds a bit corny, but genuinely, the positive changes we make to young people leaving care's lives on a daily basis and the way the service has been transformed is a team effort which I am hugely proud to be part of.

"The difficulties we have been through are well-documented and there have been some dark times in recent years for Rotherham but it's an entirely different Council and Children's Services department now. Accolades like this just go to show how far we've come. For a Rotherham girl, like me who has only ever wanted to help care leavers, I'm doing a job I love in a place I love.

"For the Leaving Care team to go from being rated Inadequate to Outstanding by Ofsted in just a few years has been quite a journey. I've always been an advocate for the young people and in the past, if I felt their voice wasn't being heard, I shouted louder and louder until it was. But now I know they are being listened to - and I don't have to shout very often!

"I'm humbled that my colleagues and many of the young people I've helped contributed to my nomination. I still get a buzz when I see care leavers I've supported go on to lead happy and successful lives and simply getting a 'Ayup Lou' in the street is all the reward I really need.

"As for the future, it's back to work. We've got a Christmas dinner to organise for our care leavers and there's lots to do!"

Sally Hodges, Interim Director of Children and Young People's Services at Rotherham Council added, "I am thrilled that Louise has been recognised and appreciated on a national stage, just as she is by her colleagues and the hundreds of young people from Rotherham she has helped - many of whom are now adults with children of their own.
"Louise lives and breathes Rotherham and is passionate about her job and doing her best for young people. Her approach is very much about treating every young person she comes into contact with as if they were her own, handing out tough love when it is required but always being supportive, a confidant and a friend."
The Social Worker of the Year awards is the leading celebration of its kind in the social care sector, and recognises the achievements and successes of the profession's most innovative and dedicated social workers in the country.

A total of 94 practitioners, social work teams and organisations from across England were shortlisted in 16 categories.

The winners were revealed at a prestigious awards ceremony in London on 29 November, the leading celebration of its kind in the sector and recognises the success of the profession's most innovative and dedicated social workers, teams and organisations.
The ceremony was hosted by TV chef and emotional wellness advocate, Lorraine Pascale, who spent some of her early life in foster care.

Rotherham Council's attendance at the event was sponsored by Sanctuary Personnel , Reed Recruitment and Eden Brown Synergy.