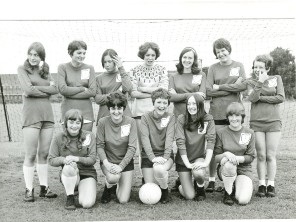 Rotherham, as one of the nine UEFA Women's EURO 2022 host cities is taking part in a National Lottery funded project to uncover the hidden history of women's football in a summer of celebration of the game, its players and communities.
In partnership with The FA, Rotherham Council has joined a number of other organisations across England for the project which has been awarded £500,000 by The National Lottery Heritage Fund.
It's an important year for women's football, as England hosts the UEFA Women's EURO and the Lionesses mark their 50th anniversary.
However, the history of the game goes back a lot further than many might think. This year also marks 141 years since women's football was first played professionally.
The National Lottery funded project aims to challenge the common perception of women's football being 'new' and change the nation's understanding of 'the English game'. In addition to the National Lottery funding, The FA and host cities have contributed nearly £600,000 to the project, making a total of £1,060,580.
For the very first time, information about every England player, captain, goal scorer and match score since 1972 will be researched, recorded and shared alongside the information that already exists about men's football. Hosted on England Football's website the record will continue to be updated, ensuring future female players are part of the nation's footballing story. The project will particularly explore the role of the LGBTQ+ community.
Rotherham is one of nine UEFA Women's EURO 2022 host cities, taking part in a fantastic range of community events and celebrations this summer. Rotherham, a town like no other, steeped in history, industry and innovation. Rotherham has deep and long connections with football tracing back to 1870. Arthur Wharton was the first black professional footballer who signed for Rotherham Town back in 1889.
Women's football greats born in Rotherham include Leanne Hall, England goalkeeper and coach, and Vicky Exley with over 50 caps for England. Rotherham Town Centre will play host to fan zones before each of the four matches, during July, with musical performances, from local and international artists, dance performances, art installations, football and much more.
Rotherham Council's Cabinet Member for Social Inclusion, Cllr David Sheppard, said: "This is a fantastic opportunity to better understand the history of women and girl's football in Rotherham, to hopefully inspire, aspiring football players to fulfil their dreams and one day play for their country as others have done before them.
"With thanks to the National Lottery funding, we are able to put together an amazing cultural programme and an exhibition at Clifton Park Museum, for everyone to enjoy."
Baroness Sue Campbell, UEFA Women's EURO 2022 Board Member and Director of Women's Football, The FA, said "We are thrilled to be working with our UEFA Women's EURO Host City partners and The National Lottery Heritage Fund on this unique project. Together we will bring to the fore incredible stories of the pioneers of women's football who have helped shape the women's game we have today. The programme will also capture and tell, for generations to come, the profiles and stories of current and future England players, ensuring fans are better informed than ever before. With the UEFA Women's EURO coming to England this summer, this really is the time to celebrate our past and look forward to a very exciting future."
£500,000 from National Lottery to share 141 years of women's football
Rotherham Council joins UEFA Women's EURO 2022 summer of celebration in partnership with The FA
Stories of pioneering women and girls will be recorded for the first time
Creation of a cultural programme focused on the heritage and legacy of the tournament with community engagement programmes and an exhibition at Clifton Park Museum