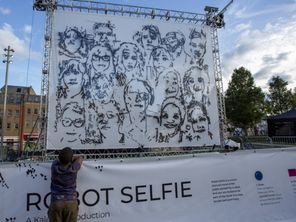 Rotherham will officially launch its journey to become the world's first Children's Capital of Culture next week, with a never-seen-before 10-day festival of events aimed at children and young people.
The Children's Capital of Culture Launch Festival (21 February – 3 March) will give a taste of what 2025 could look like in Rotherham, spotlighting it as a cultural destination and home to a hive of creative talent.

Rotherham town centre will be transformed into a playground for the young community during February half-term, with a skate and arts festival, demos by Team GB skaters and BMX pros, a giant spray-painting robot, live music, large-scale art installations, and unmissable creative workshops and events.

Julie Dalton, Managing Director of Gullivers and Chair of the Children's Capital of Culture Programme Board, explains: "In 2025, Rotherham will be the world's first Children's Capital of Culture, designed and delivered by children and young people from across the borough. This is a bold, first-of-its kind initiative that aims to empower children and young people to create a future narrative for Rotherham on their own terms, celebrating its culture, identity and distinctive heritage. The journey officially starts here, and we want everyone to get behind it."

The launch festival kick-starts a five-month pilot programme of activity for 0–25-year-olds in Rotherham. From now until June 2022, children and young people can attend events, join creative networks and take part in skills training programmes as part of the Children's Capital of Culture programme, which has received £1.4m from the UK Government through the UK Community Renewal Fund.

Cllr Dave Sheppard, Cabinet Member for Social Inclusion, adds: "We will be using this time to give young people in Rotherham more life-changing training and skills opportunities in the creative and cultural sectors than they've ever had before, that will make a lasting impact on them and on our town. We want to make Rotherham a place that young people are proud to call home, and where they want to develop, work and invest. We're making improvements that will help change the perception of Rotherham, inside and outside the town, and lead a wave of aspiration amongst our young people."

The Children's Capital of Culture project is led by Rotherham Council, delivered in partnership with children and young people, businesses, voluntary and community sector organisations and cultural institutions from across the borough. The programme has received significant external funding from the UK Community Renewal Fund, Arts Council England, South Yorkshire MCA, and ERDF.

What's On Guide: Rotherham Children's Capital of Culture Launch Festival

All events are free to attend, unless stated otherwise.
Rotherham Skate and Arts Festival (22-24 February, Rotherham Town Centre)
Join us for Rotherham's first ever Skate and Arts Festival, an action-packed few days of skateboarding, biking, art installations, floor murals, art workshops, music and more. It includes:
Uplift (22-24 February, Rotherham Town Centre)
Rotherham's Town Centre will be transformed into 'Uplift', a colourful pop-up skate park created by Art of Protest and King Ramps. Meet Team GB Olympic skaters Alex Hall and Jordan Thackeray, and BMX pro Jack Clark, who will be performing their best kickflips, ollies, and laser flips, and learn their tricks with free skate and BMX workshops running each day. All wheels and safety equipment provided.
Robot Selfie (22-26 February, All Saints Square)
Robot Selfie, an artistic robot from UK-based production studio Kaleider, will land in All Saints Square to create a huge mural of Rotherham's young people. Upload your selfie on-site and watch it being spray painted onto the giant canvas.
Stencil and spray painting workshops (22-24 February, Effingham Street)
Free 45-minute stencil and spray painting workshops for graffiti lovers and more. Learn the fundamentals of design, stencil making, spray painting techniques, can control and drop shadowing.
Sticker making and screen printing (22–24 February, Old Town Hall)
Have a go at screen printing at this pop-up with Carousel print studio, or design and create your own skate-inspired stickers with graphic artist Ed Syder, at these free drop-in sessions.
Live music and street food (24 February, town centre)
Listen to local bands, including Skint Knees, Blood Stained Reputation and Undies, who'll be playing live on stage. You can also pick up some delicious food from one of the on-site street food stalls.
Free Craft Workshops at Rotherham Market (21-25 February, 11am to 3pm, Indoor Market Seating Area)
There's something different to try every day including origami flowers, arts & crafts and watercolour painting.

Truth to Power Café (7.30pm on 24 and 25 February, Rotherham Civic Theatre)
Amplifying the voices of young people in Rotherham, Jeremy Goldstein's acclaimed Truth To Power Café is coming to Rotherham Civic Theatre. This uplifting and empowering performance will feature eight local young people telling their personal stories and answering the question 'Who has power over you, and what do you want to say to them?'. The live and digital performances are commissioned by The Space. Tickets are £12 (£9 concession) and available from www.rotherhamtheatres.ticketsolve.com.
Linger Longer Lane, (10am-4pm, 22-26 February, the Old Town Hall)
Literacy charity Grimm & Co have created Linger Longer Lane, a magical and enchanting place where families, children, young people, culture and creativity come together. Take part in workshops covering everything from crafts and storytelling to music, dance and poetry, or watch Khula Arts performing engaging music, story and dance performances from the street's balconies.

Neon Light Installation (28 February / 3 March, Rotherham Civic Theatre)
A new neon art installation by local artist Patrick Murphy will light up Rotherham Civic Theatre, inspired by Ian McMillan's new poem and made in collaboration with a team of Young Producers, who have shared their favourite experiences in Rotherham and future hopes for the town. Ian McMillan will lead two group workshops from 5pm om 28 February, and there will be a live switch on and open mic event on 3 March.

Into The Realm of Possibility (Monday 21 February – Sunday 29 May)
Clifton Park Museum will take you Into The Realm of Possibility, an interactive exhibition co-curated by young producers. It tells the story of Children's Capital of Culture, celebrates youth and childhood through objects from the museum's collection, and gives you the chance to share your ideas for the future. Showcasing bold work from young artists in residence, it brings together stories and childhood memories from different generations, and will act as a hub for Children's Capital of Culture over the next four months, with a programme of talks, tutorials, workshops and classes.
The launch festival has been made possible with support of Flux Rotherham, Kaleider, Art of Protest, Grimm & Co, RMBC, London Artist Projects, The Space and Hive South Yorkshire.
For more information about Rotherham becoming the world's first Children's Capital of Culture in 2025 and how you can be part of it, head to www.rotherham2025.com/hello, follow us on Instagram (@ccoc_rotherham2025), Facebook (/ccocrotherham2025) and Twitter (@ccoc_roth2025) and share your experiences using the #Rotherham2025 hashtag.