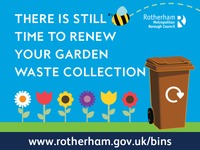 Time is running out for residents who wish to save money on their garden waste collection subscription.
Residents who renew before 20 December 2019 will pay a discounted rate of £37 for the brown bin service. Those who sign up to the collection after this date will pay the full fee of £40.
Rotherham Council is also offering residents a chance to pay for their garden waste collection by annual Direct Debit. Those who sign up to the Direct Debit before 20 December will not have their payment taken until 1 February 2020.
The new service starts from the 2nd February, so if you do not renew by that date you will no longer receive the service.
Rotherham Council's Assistant Director of Community Safety and Street Scene, Tom Smith, said: "Over 40,000 residents signed up the garden waste collection service last year. We hope that all the residents who have made use of the collection have found it useful. If you would like to continue receiving the brown bin collection, please renew before the collection begins next year."
The paid for garden waste collection service was introduced last year by the Council as part of the changes to household waste services, which included the introduction of plastic recycling at the kerbside.