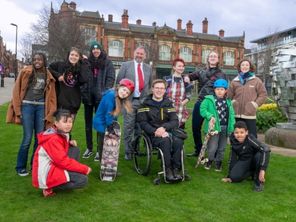 Rotherham has been transformed into a playground, as the borough launches its Children's Capital of Culture initiative with an exciting skate and arts festival and 10 days of events.
Young people and children have taken to the town centre to watch demos by Team GB skaters and BMX pros, a giant spray-painting robot painting their selfies, live bands, and large-scale art installations. They also got to take part in a wide range of creative workshops and events, including spray painting, screen printing and storytelling.
The launch festival is taking place to provide a taste of what 2025 will look like in Rotherham when it becomes the world's first Children's Capital of Culture.
Cllr Dave Sheppard, Cabinet Member for Social Inclusion, said: "It's been fantastic to see Rotherham come to life over half term with an exciting programme of events and activities that children and young people have created in partnership with the Council's cultural services and partners such as Flux Rotherham and Grimm & Co.
"The launch festival has so far provided a real insight into what becoming Children's Capital of Culture will mean for Rotherham and it's young people, and it's been fantastic to see such a great turn out and get such a positive response from everybody who has attended.
Julie Dalton, Chair of the Children's Capital of Culture Programme Board, added:
"The launch festival has been many months in the making and marks the start of Rotherham's journey to becoming Children's Capital of Culture in 2025. The whole team behind the programme is looking forward to working young people across the borough to design and deliver more fantastic events, create more training opportunities, support their creative development and increase access to employment and skills within the creative and cultural sector in the lead up to 2025 and beyond."
Speaking about what the festival means to him, Mitchell Nuttall, a 25-year-old from Rotherham, who is one of the Young Producers making the launch programme happen over the next five months said: "It's been brilliant to see so many exciting events taking place in Rotherham over the last week, and it's created a real buzz in the borough. Becoming Children's Capital of Culture means that there will be more exciting events and opportunities than ever before for young people like me in Rotherham, and that's something I'm really excited about."
Also happening over the remainder of the festival are:
Truth to Power Café (7.30pm on 24 and 25 February, Rotherham Civic Theatre)
Amplifying the voices of young people in Rotherham, Jeremy Goldstein's acclaimed Truth to Power Café is coming to Rotherham Civic Theatre. This uplifting and empowering performance will feature nine local young people telling their personal stories and answering the question 'Who has power over you, and what do you want to say to them?'. Tickets are £12 (£9 concession) and available from www.rotherhamtheatres.ticketsolve.com. The show will also be live streamed to a global audience on YouTube and Facebook. The digital performance has been commissioned by The Space.
I'd Rather Rotherham Neon Light Installation (28 February / 3 March, Rotherham Civic Theatre)
A new neon art installation by local artist Patrick Murphy will light up Rotherham. It is inspired by Ian McMillan's new poem and made in collaboration with a team of Young Producers, who have shared their favourite experiences in Rotherham and future hopes for the town. Ian McMillan and Patrick Murphy will lead two writing workshops from 5pm on 28 February, and there will be a live switch on and open mic event where the new poem will be performed on 3 March. Places at these free events can be booked through Rotherham Civic Theatre: https://rotherhamtheatres.ticketsolve.com/shows.
The launch festival kick-starts a five-month pilot programme of activity for 0–25-year-olds in Rotherham. From now until June 2022, children and young people can attend events, join creative networks and take part in skills training programmes as part of the Children's Capital of Culture programme, which has received £1.8m from the UK Government through the UK Community Renewal Fund.
Young people will be able to continue their journey through initiatives such as Challenge Rotherham, which will see young people from across the borough create a new creative and cultural challenge each week.
A Young Creatives Network will also be launched over the coming weeks to help children and young people of all ages get their first experience of the cultural and creative industries, through taster workshops and classes to creating their own cultural events and activities for other young people to enjoy.
The launch festival has been made possible with support of Arts Council England, Flux Rotherham, South Yorkshire Mayoral Combined Authority, ERDF Welcome Back Fund Kaleider, Art of Protest, Grimm & Co, Rotherham Council, London Artist Projects, The Space and Hive South Yorkshire.
For more information about Rotherham becoming the world's first Children's Capital of Culture in 2025 and how you can be part of it, head to www.rotherham2025.com/hello, follow on Instagram (@ccoc_rotherham2025), Facebook (/ccocrotherham2025) and Twitter (@ccoc_roth2025) and share your experiences using the #Rotherham2025 hashtag.