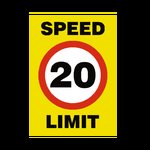 Work on 15 new Neighbourhood Road Safety schemes across Rotherham is set to get the immediate go ahead.
The Council's cabinet will discuss the proposals at its meeting on 23 December.
A variety of safety measures are being proposed, including interactive speed signs, 20mph school zones and red surfacing to warn motorists to reduce their speed.
Subject to approval, these will be the first projects funded by the Council's £450,000 Neighbourhood Road Safety Scheme programme, a three year capital scheme to provide smaller scale road safety improvements in areas identified by the public.
The 15 projects being progressed now meet the scheme's criteria and require little preparatory or legal work. So, subject to confirming programming delivery schedules should be able to commence before the end of March 2020. They are:
Dinnington Road / Worksop Road / Gildingwells Road and Sheffield Road, Woodsetts – vehicle activated speed signs
Lordens Hill, Dinnington – vehicle activated speed signs
New Road, Firbeck – vehicle activated speed signs
Laughton Road, Dinnington – supplementary bollards
Masefield Road / Stokewell Road, Wath-upon-Dearne – 20mph school zone
Main Street, Wentworth – vehicle activated speed signs
Rotherham Road, Brampton Bierlow – vehicle activated speed signs
Blyth Road, near junction with Woodlea Lane, Maltby – warning signs
Broom Road, near Sitwell Infant and Junior Schools – 20mph school zone
Swinton Ward (various locations) – portable vehicle activated speed sign
Wentworth Road, Swinton – red road surfacing
Milton Street near Highfield Court, Swinton – red road surfacing
Wath Ward (various locations) – vehicle activated speed signs
Fleming Way, Wickersley – road markings and tactile paving
Bassingthorpe and Gin House Lane – warning signs.
Councillor Emma Hoddinott, Cabinet Member for Waste, Roads and Community Safety, said: "We set up this fund to respond to community concerns about road safety, that wouldn't be met by ever reducing funds from central government. Often a simple, minor improvement can provide the solution – which our Neighbourhood Road Safety Schemes are intended to provide – and can make a huge difference to all road users."
The projects were put forward for funding from the Neighbourhood Road Safety Scheme by councillors on behalf of their local communities during a six month consultation earlier this year. All were assessed against a criteria including environmental impact, regeneration, mode of travel (eg walking or cycling), social disadvantage, safety and maintaining infrastructure.
Some of the schemes originally submitted are unlikely to be implemented for a variety of reasons, including cost, Department for Transport rules or that they are impractical as proposed. However, in all cases, alternative schemes will be explored and brought forward where possible.