Responding to the statement issued by the Chief Constable and the Police and Crime Commissioner in relation to protests
Published Friday, 11th September 2015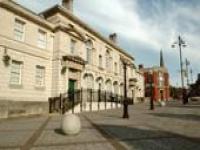 The Leader of the Council and Commissioner Mary Ney have issued statements relating to those issued by the Chief Constable and Police and Crime Commissioner on Thursday.
Responding to the statement issued by the Chief Constable and the Police and Crime Commissioner in relation to protests, Cllr Chris Read, Leader of Rotherham Council, said:
"We acknowledge and respect that people – the vast majority of them from outside of Rotherham - have used their right to protest, and they've done so repeatedly. However, the protests have frightened people away from our town centre, they've damaged our local economy, and they haven't added anything to the very serious work that's being done to restore the council, tackle child sexual exploitation and to secure justice for those victims who have been let down.
"For Rotherham to recover we need the space to keep making that progress, not people being discouraged from being part of the community, from shopping in our town centre, from working and from going about their usual daily business. We've asked for the protests to cease in the interests of our town, but the organisers have refused. That is why we are backing the new legal avenues being explored by the police."
On behalf of the Government Commissioners working in Rotherham, Commissioner Mary Ney said:
"We very much welcome the Chief Constable's announcement that he is reviewing what legal powers can be deployed to tackle the demonstrations that have been causing such disruption to our town and to our residents over a prolonged period of time. We are concerned that the current legislative framework falls short of what we need to deal with the very specific situation we are facing here in Rotherham. The Council will continue to support the police in any way we can to tackle this.
"Whilst we respect people's right to peaceful protest, this needs to be balanced against the significant local impact this is having in Rotherham. We have had numerous marches on the same issue, largely from groups outside the region, over a prolonged period of time.
"A huge amount of effort is going into making the vulnerable safe, and ensuring that those responsible for these terrible crimes are brought to justice. The Secretary of State has appointed Commissioners to take Rotherham forward, because of the failings of the past. These continued marches serve no purpose, are impacting on our progress, and are putting at risk some of the good work that has been done on regenerating the town. Our local communities and businesses have been very tolerant, and more than anyone have the right to be angry about the failings of the past. They themselves are now saying that enough is enough. We want to help re-build Rotherham's reputation, bring communities together, and build on the strengths of the town. Rotherham needs to move on, and we can see that this is starting to happen. Further protests like this can only hold us back."