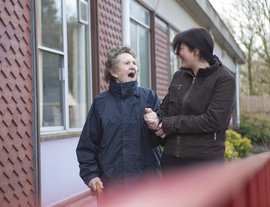 Frontline care workers in Rotherham are set to get a pay rise - a major victory for Rotherham Council's new social value policy - giving a boost to the local economy and nearly 1,000 low paid workers.
The Council's Cabinet will consider the proposals, alongside a new person-centred approach to the way home care services are delivered at its meeting on 23 December.
The new pay rates are set to come into force next April, when new home care and support contracts come into effect.
For the first time when awarding the home care contracts, the bidders have had to demonstrate how they can provide wider social value to Rotherham, as well as delivering good services.
Following a comprehensive tendering process and negotiations, it's been confirmed that all care workers will be paid the Living Wage Foundation hourly rate of £9.30 per hour or above. The increase will benefit up to 970 workers.
Currently just 17% of frontline care workers are paid the Living Wage Foundation rate.
Councillor Chris Read, Leader of Rotherham Council, said: "Care workers do a difficult yet invaluable job to improve the lives of some of our most vulnerable residents, but are often seen as the poor relations of the care sector when it comes to their pay. I am absolutely delighted that our decision to imbed social value in the services we buy is paying dividends for them. "
This will help to attract and retain people in the sector and make working in the care sector in Rotherham a more attractive option than in many other areas. It will also put more money in people's pockets to spend locally, supporting our economy."
Further 'social value' pledges made by the proposed new providers include:
Recruiting staff who can demonstrate compassion, empathy, respect and interpersonal skills
Work with Rotherham College to provide work experience and employment opportunities
Offer entry level employment opportunities to people not currently in education, employment or training
Provide free room hire, free wifi and refreshments to local community groups and offer free training on key issues, such as dementia.
Rotherham Council is set to introduce a new person-centred approach to the care it provides to people in their own homes through the new contract, with a greater focus on helping them to retain their independence for longer.
The new approach to care will see the Council and the appointed care companies working together to provide more flexible home care and support arrangements, tailored to the needs of the person receiving the care and their family.
There will be a greater emphasis on reablement, so that the person receiving the care has the best possible chance of retaining independence and living at home for as long as possible, rather moving into long-term residential care.
This change in approach supports the Council's vision for adult care, 'to support residents of Rotherham to live full, active lives; to live independently and to play an active part in their local communities'.
The same approach is being applied across the entire health and care system in Rotherham. It is mirrored in the services that have been procured on behalf of Rotherham Clinical Commissioning Group (CCG), thus creating a seamless pathway of home care and support for the people of the borough.
The Council commissions around 16,000 hours of home care per week for 1,300 Rotherham residents – around 83% of which are elderly.
The report notes the 13 care providers – a mixture of local, regional and national companies - are appointed to deliver services on behalf of the Council, with new contracts starting on 1 April 2020, following the expiration of the previous agreements.
The estimated cost of providing these services in 2020/21 is £14.3 million for the Council, plus £1.7 million for the CCG.
Councillor David Roche, Cabinet Member for Adult Social Care and Health at Rotherham Council, said: "By adopting a more proactive approach to reablement and making home care services more person-centred, there are considerable, long-term physical and mental health benefits for the people in receipt of care at home. Not only that, helping to slow-down or stop someone from going into decline is likely to mean they can live at home for longer and stay out of residential care, which is a better use of taxpayers money.
"I am delighted the care providers we will work in partnership with share our ambitions to support the residents of Rotherham to live full, active lives and are offering wider, social value to our borough, through better pay, job and training opportunities to those that most need them and other wider community benefits."
Rotherham Council's Social Value Policy