Thank you, says Council Leader as Views From Rotherham report is published
Published Friday, 16th October 2015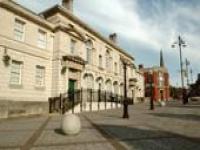 Rotherham Council Leader Cllr Chris Read has extended a 'big thank you' to over 1,800 residents and workers who gave their time to take part in this summer's Views from Rotherham consultation.
Views from Rotherham was the biggest consultation that the Council has ever undertaken.
Everyone who lives and works in Rotherham had an opportunity to give their thoughts about the borough; from feeling safe and secure to the way jobs and homes are created, the consultation covered a whole range of issues and council services.
Twenty-seven targeted sessions were led by Cllr Chris Read alongside the Council's commissioners, councillors and partners. Between them, they saw hundreds of people from a range of organisations, businesses and community groups across the borough, with hundreds more putting their views forward online. The outcomes of the consultation are now published online.
Cllr Read said: "Thank you to everyone who gave their time to come along to one of the sessions, or to give their views via our website. The people I met with were genuine, sincere and open - and very honest about the things they are proud of within the town, what their concerns were, and what changes they would like to see in the future.
"After events over the last year in Rotherham, it was crucial we had this conversation; to discuss how we can best move forward, and how the council fulfils its role in the years to come.
"There is no doubt that we have some very tough decisions to make in the future but knowing what is most important to the community helps us to prioritise."
Some of the common themes highlighted in the sessions included clean and tidy streets, a more welcoming town centre, children feeling happy and safe, and the need for more and better jobs.
Over 650 people took part in follow-up consultations at the Rotherham Show and a business event, giving their views on which priorities were most important to them to take Rotherham forward in the future.