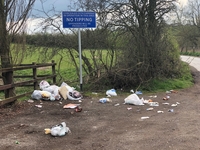 A fly-tipper has been ordered to pay in excess of £500 by Sheffield Magistrates Court after admitting to being responsible for numerous bags of domestic waste being deposited in Ulley.
Chloe Hodson, of Woodhouse Green, Thurcroft, pleaded guilty to a series of offences involving the leaving of several bags of domestic waste, including kitchen waste and nappies, in the same layby on Ulley Lane, underneath a 'No Fly tipping' sign during March and April 2019.
Investigations by council officials identified Miss Hodson as the offender and she was issued with a number of letters requesting her to attend an interview in reference to the matter.
Miss Hodson failed to attend any of the requested interviews and subsequently legal proceedings were taken against her by the Council.
Miss Hodson pleaded guilty and was ordered to pay a fine of £100, costs of £400 and a victim surcharge of £30; a total of £530, by Sheffield Magistrates Court.
Rotherham Council's Cabinet Member for Waste, Roads and Community Safety, Cllr Emma Hoddinott, said: "There is no excuse for fly tipping – our residents have told us that tackling this anti-social crime is a priority and we would urge members of the public to report any instances of fly tipping directly to us."