Child Mayor takes on official duties
Published Thursday, 22nd October 2015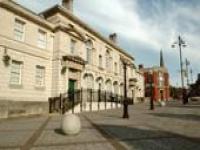 Now in its 25th year, Rotherham's unique tradition of having a 'Little Mayor for the Day' returns at the end of the month.
This year sees Zoe Fathers experiencing a full day of Mayoral duties, alongside The Mayor of Rotherham Maggi Clark and Consort Peter Clark, as Rotherham's first citizen, on Wednesday October 28.
The exciting day of activities begins with Zoe being picked up in the Mayoral car from her house, then on to the Town Hall for a robing ceremony, official letter signing and a press call.
Zoe, a student at Dinnington Primary School, will then visit Wentworth Garden Centre for a fun and educational tour around their Family Farm and hopefully a cuddle with a Meerkat, just one of a whole host of beautiful animals the farm looks after.
From there, the Little Mayor and party will visit Sandygate Residential Care Home in Wath to surprise one of its residents on her 107th Birthday!
Zoe will then return to the Town Hall to host a lunch, where she will be joined by Deputy Little Mayor Liam Walker, a student at Bramley Grange Primary School, followed by a tour of the Town Hall.
The afternoon's activities take the Little Mayor and Deputy Little Mayor to Boston Castle for a Halloween Family Fun Day, with a chance to make a Halloween lantern. Then, a short tour of this fascinating Grade II listed building, originally a shooting lodge, built in 1773 by the Earl of Effingham.
This exciting day will end on a sweet note for Zoe and Liam with a visit to Scarlett's Coffee Bar and Deli for tea and scones.
Little Mayor Zoe said: "I am really looking forward to my day as Little Mayor as being Deputy for the afternoon last year was a fantastic experience, so a full day will be even better, it is a real honour.
"I can't wait to visit the Family Farm at Wentworth to see all the lovely animals they have there and I am very interested to discover more about the history of Boston Castle and make a Halloween lantern at their family fun day. Then onto Scarlett's; who wouldn't be looking forward to afternoon tea and scones!"
The Mayor of Rotherham, Councillor, Maggi Clark added: "Little Mayor for the Day is a wonderful tradition, unique to Rotherham and one I'm very glad we celebrate.
"I'm so pleased to welcome Zoe to Rotherham Town Hall and show her what an honour it is to be the First Citizen of the town.
"I am very much looking forward to the day's activities and sharing the experience with Zoe and Liam. Rotherham has some wonderful attractions and a wealth of history which deserve to be seen and enjoyed."
The tradition of having a young person from the borough act as Rotherham's first citizen was resurrected over two decades ago by Rotherham Council.
It originally came about when, in his will, Archbishop Thomas Rotherham left church vestments for the use of a "child Bishop" at the college named after him.
The child Bishop was elected from amongst the choristers and invested on St. Nicholas' day, as he was the patron saint of boys and scholars.
The boy bishop had his own cope, mitre and vestments and the ceremonies continued until the Feast of Childermas or Holy Innocents.
Since then, his benevolent request has morphed into the event which it is today, where one fortunate school pupil from the Rotherham area is chosen to take the role of Rotherham's first citizen for a single day.
Now organised by the council's Events team, Little Mayor for the Day has gone from strength-to-strength keeping the tradition alive with visits to the fantastic attractions and businesses of the borough.