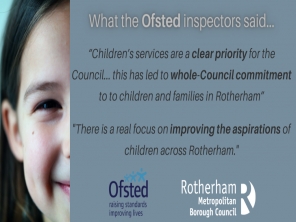 Services provided to children and families by Rotherham Council have been rated as 'good' across the board by government inspectors in an Ofsted report published today (Friday 12 August 2022).
The Ofsted inspection team visited Rotherham Council in late June, speaking to lots of local children, young people and families about their experiences, interviewing social workers, senior staff, councillors and partner organisations and scrutinising a raft of case files.
They graded Children and Young People's services in four key areas and found:
The impact of leaders on social work practice with children and families is GOOD.
The experiences and progress of children who need help and protection is GOOD.
The experiences and progress of children in care and care leavers is GOOD.
Overall effectiveness is GOOD.
The last Ofsted inspection of Children's Services in Rotherham was carried out in 2017 when it was rated good overall. The Council was subject to intervention at that time, with Government appointed Commissioners overseeing the running of the Council. That intervention ended in 2019 and this latest inspection is the most significant assessment of children's services since then.
Inspectors said that "Children's services are a clear priority for the Council", that there was a "whole Council commitment to children and families in Rotherham" and that "a learning culture is set from the top".
The report praised the way that social workers supported vulnerable children and kept them safe. It said: "The vast majority of social work practice supporting children in need, child protection and children in care seen during this inspection is of a good quality. All the children the inspectors met reported on the high-quality support they receive from their workers. Actively listening and responding to what children say are key components of the local authority's success in helping vulnerable children to be safer and have better lives".
A small number of areas for improvement were highlighted by inspectors, including more consideration of previous history and current circumstances when concerns are first raised about children and the quality of individual case audits to inform wider service learning. These issues are being addressed.
Councillor Chris Read, Leader of Rotherham Council said: "The Ofsted report makes extremely positive reading for the Council, our staff and partners. It describes a service that is doing amazing work with local families on a daily basis. When I became Leader of the Council in 2015, we were a long way away from providing good children's services. However, we have continued to make this a priority since our last inspection in 2017. After leaving intervention, we've sustained that progress and improved even further on our own two feet."
Councillor Victoria Cusworth, Cabinet Member for Children and Young People at the Council said: "The inspection team carried out a forensic review into how the Council works with children. Their findings should offer further reassurance to local families about how our children's services have been transformed for the better over the last few years and that our most vulnerable children are being kept safe and supported to have better lives.
"I'm proud of everything we've achieved and continue to achieve for our children, young people and families. But we won't stop here. We will continue to work hard and aim for outstanding".
Sharon Kemp, Chief Executive of Rotherham Council, said: "Our Council plan sets out how we want Rotherham to be a great place to grow up, where all children and young people are safe, valued, able to enjoy their lives and achieve their aspirations. It's so pleasing to see that ambition being realised through the hard work of our staff, our schools and our partners."
In the report, inspectors described Suzanne Joyner, the Council's Strategic Director of Children and Young People's Services as "an inspirational leader" and as having "a relentless commitment to further develop children's services".
She said: "Every day, it is my privilege to work alongside so many fantastic colleagues and see at first hand how they work to ensure Rotherham children, young people and families can be resilient, successful and safe. I am proud of all our staff, councillors and partners who make this their daily mission.
"This is deserved recognition of their work and we will continue to challenge ourselves and each other by asking 'would this be good enough for my child/family'. We remain relentless to learn, listen and strive for even better."
A copy of the Ofsted inspection report on Rotherham Council Children's services is available to view on the Ofsted website.