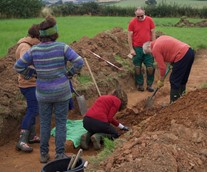 A nationally significant archaeological discovery has been made in Harthill, with thanks to Harthill with Woodall Archaeology Group.
Formed in 2016, Harthill with Woodall Archaeology Group (HWAG) is a group of over 50 volunteers. Members range in age from 3 years old to their late 70s. All of the members are dedicated to investigating and publishing the heritage of Harthill with Woodall, a very special corner of South Yorkshire.
The group is particularly interested in archaeology and, as a result, have organised and successfully conducted three (2018, 2019 and 2021) campaigns of archaeological investigations.
HWAG's activities are done either on a voluntary basis, or are financed by the group's membership fee (for the current financial year this is £5.50 per person/per annum).
In addition, the group have received three grants totalling £1,900 from South Yorkshire Community Foundation (£1,000); Wales Ward Members Community Leadership Fund (£400) and Harthill with Woodall Parish Council (£500).
Archaeological investigations
These include non-intrusive (background research, map regression, geophysical evaluation) and intrusive (supervised machine removal of overburden and hand excavations) archaeological fieldworks as well as post-excavation works (washing, drying, quantifying, labelling finds, processing of environmental samples, specialist analysis, report writing and archiving).
Risk Assessments and Method Statement (RAMS) and Written Scheme of Investigation (WSI) documents are written prior to all works on site, as per the standard archaeological industry practice.
In 2021, HWAG conducted a week long archaeological hand excavation on farmland located on the outskirts of the village.

The hand excavation targeted a small part of a larger complex previously evaluated by a detailed geophysical survey, carried out by Wessex Archaeology in 2020. This evaluation identified a dense concentration of anomalies of archaeological interest.
The geophysical survey located two distinct, adjoining double ring-ditch features, as well as two single ring-ditch features that could indicate round barrows. Two further, weaker anomalies were identified that were tentatively interpreted as additional similar features. The identified features likely date to the Bronze Age and represent barrow monuments.
Bronze Age barrows are typical monuments that were part of Britain's prehistoric landscape. They date from around 3000 BC, are earthen funerary monuments that vary in size from five to fifty metres in diameter and can be found in isolation or as part of a barrow cemetery (like in the case of the Harthill monuments).
During HWAG's hand excavation in 2021, a 12 metre long and 4 metre wide, east-west oriented trench was opened.
The topsoil was removed and the subsoil successfully exposed ring ditches. Within the centre of the barrow, a ceramic vessel, was found (see left photo, below).
Five environmental samples were taken from the fills of the ditches (right photo, see below).

The discovery of an urn
The urn was recorded in situ and it was block lifted for the detailed excavation in an archaeological conservation laboratory. In the laboratory, the urn was stabilised, its content was ultrasound recorded and microscopically excavated. The content of the urn was then processed. The urn itself was cleaned, stabilised and is in the process of being conserved.
The results of this small-scale hand excavation confirmed the presence of a double ring-ditch feature, as recorded during the geophysical evaluation. In addition to the geophysical results, some of these features were previously identified on aerial imagery of the site as cropmarks, but further clarity has been added by this excavation.
Collectively, the monuments form part of a barrow cemetery or funerary complex of significant national archaeological interest. The recently published South Yorkshire Historic Environment Research Framework states:
Perhaps the most intriguing aspect to the Late Bronze Age in South Yorkshire is how little data can be attributed to it. Pottery is entirely absent within the region (Cockrill 2020; Chadwick 2020: https://researchframeworks.org/syrf/).
Therefore, the urn itself is an exceptionally rare find in South Yorkshire.
An environmental analysis of the contents of the urn and the urn/pottery report is ongoing. The delivery of the report is pending and is expected late this year/early next year.
Working with you to help build communities that we can all take pride in is a priority for the Council.
Find out about news and events in your area by signing up to receive news from your neighbourhood newsletters at: https://public.govdelivery.com/accounts/UKRMBC/signup/13606