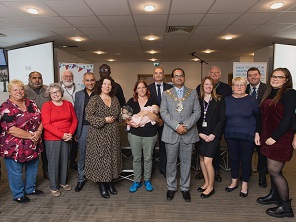 Rotherham Council celebrated receiving 'Exemplar' status for tenant engagement following a rigorous assessment process with national tenant engagement organisation Tpas.
Tpas promote, support and champion tenant involvement and empowerment in social housing across England, with the Council receiving the accolade for its continued commitment to making sure tenant's voices are heard.
Tpas Exemplar is awarded to organisations who have been given the Tpas accreditation three times and have consistently demonstrated an exemplar approach to tenant engagement. Rotherham Council is only the third housing provider in the country to achieve the status.
Jenny Osbourne from Tpas presented the award to The Mayor of Rotherham, Councillor Tajamal Khan, at the annual Tenant's Open Day held earlier this week at New York Stadium.
Cabinet Member for Housing, Councillor Amy Brookes said: "This is excellent news for the Council and our tenants and residents. We will always listen to and involve our tenants and residents in how we can improve their homes, estates and services.

"We take pride in our commitment to engagement and we take every opportunity to involve residents in decision making.
To receive the Tpas Exemplar Accreditation, the Council had to demonstrate a strong culture of involvement and an ability to drive business improvements for tenants.
The assessment panel were especially impressed by staff commitment to making tenant's voice listened to, with the partnership between the Council and partner Rotherfed held up as good practice.
Chief Executive of Rotherfed, Phil Hayes said: "This award is great recognition of the commitment shown by our tenants to get involved, have the confidence to have their voice heard, and make a difference in their community.
"RotherFed would like to thank Tpas for the award, and hope that the unique partnership that is thriving in Rotherham including tenants, RotherFed, and the Council, will continue to make a difference in future years."
The accreditation follows a comprehensive and collaborative process which included a full assessment of the Council's approach to tenant engagement, reality checking and focus groups with staff and tenants.
Chief Executive of Tpas, Jenny Osbourne added: "We're delighted that Rotherham Council has successfully been accredited with Tpas three times and completed a meticulous process to become an Exemplar Accredited housing organisation.
"Rotherham Council have demonstrated their continuing commitment to the values we share. Tpas believe that involving tenants in all aspects of service delivery in the housing sector is not only the right thing to do but also makes great business sense. We look forward to sharing the stories of how Rotherham have continuously used the accreditation process to achieve success by working together with tenants."
The Tpas accreditation will last two years and also makes recommendations for continuous improvements.
Find out more about how to get involved in Rotherham Council's Housing service by visiting www.rotherham.gov.uk/tenant-involvement