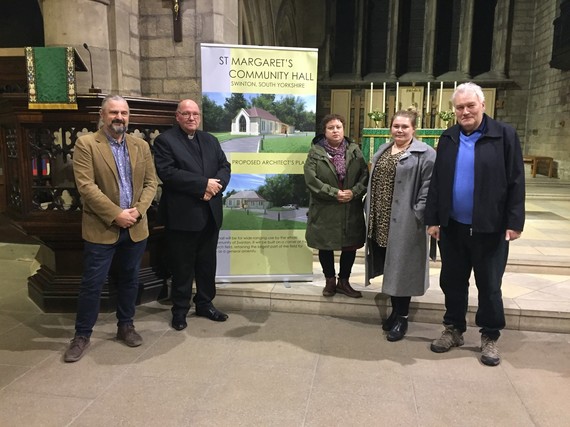 Last month, St Margaret's Church announced a fundraising mission to raise £700,000 to build a Community Hall on the Church to benefit local residents.
Ward Councillors from both wards covering the Swinton area were in attendance to offer their support to the project and the benefits that the hall would bring to local residents.
The hall would offer many benefits to the local community, here are just a few ideas of what the hall could provide:
Lunch clubs
A facility for celebrations such as birthday parties and wedding receptions
Social and craft groups
Educational activities
Indoor sports and games
As soon as the Church has a positive directive from the Council's Planning Department, the major fundraising mission will commence.
Although, it is hoped that a significant proportion of the money needed will come from donations and grants. They will need to call on the outstanding generous spirit of the people of Swinton.
How can you help?
You could organise and participate in fundraising activities, make individual or group donations, or you could sponsor a brick for just £25.
In advance of formally launching the fundraising, it would be helpful if you could indicate whether you would be interested in sponsoring a brick, or making a donation and what the amount would be.
Please tell your friends, family and neighbours about the plans so they can get involved too.
Working with you to help build communities that we can all take pride in is a priority for the Council.
Find out about news and events in your area by signing up to receive 'News from your Neighbourhood' e-newsletters at: https://public.govdelivery.com/accounts/UKRMBC/signup/13606