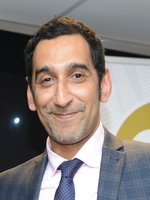 Rotherham Council's Assistant Chief Executive, Shokat Lal is to leave the authority, after securing a new position at neighbouring Barnsley Council.
Shokat joined Rotherham Council in March 2017, leading the Council's human resources and organisational development, neighbourhood working, corporate communications and marketing, democratic and scrutiny services and performance, intelligence and improvement functions.
As a member of the authority's senior leadership team, he has played an important role in helping to steer a new path for the authority, free from Government intervention and on a rapid journey of improvement.
Now he is to take up the role of Executive Director of Core Services at Barnsley Council.
Sharon Kemp, Chief Executive of Rotherham Council said: "I would like to offer my congratulations to Shokat on securing his new post, although we will be very sad to see him leave us. Not only has he been an invaluable member of our strategic leadership team, he has forged with the partners and communities he has worked with.
"Shokat has played a key part in the Council's journey of improvement and will leave with our very best wishes"
Shokat Lal added: "I am excited to be taking up a new opportunity with Barnsley Council which will help me to expand my experience - South Yorkshire is a special place and I am pleased to be able to continue my career here.
"I will always look on my time at Rotherham Council with extreme fondness and pride. I consider myself fortunate to have worked with some brilliant, committed and talented people across the Council, at partner organisations and in local communities.
"At times it has been challenging but ultimately it has been one of the most rewarding periods of my career. "