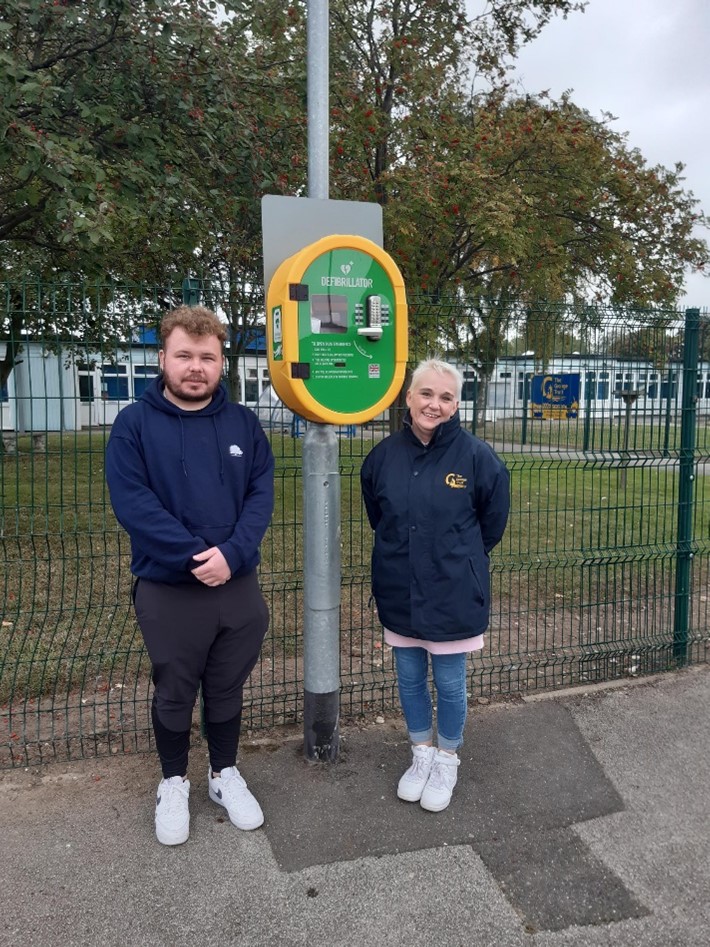 A new defibrillator has been installed outside Bramley Grange Primary School.
Local resident Rita Layden raised the need for a defibrillator in 2021. This was due to concerns that the nearest defibrillator was on Cross Street in Bramley. This location is at the top of a hill and inaccessible for many older and less mobile residents who live on the Bramley Grange estate.
Councillor Greg Reynolds and Neighbourhood Coordinator Nicola Harding initially met with Rita to identify possible locations for a new defibrillator to be placed.
Nicola reached out to local organisations who could take on the ownership and responsibility of a defibrillator. This is important, as a defibrillator needs to be regularly maintained and readily available in an emergency.
Nicola contacted Bramley Grange Primary School, who were looking to fund their own defibrillator because one of their pupils requires one to be on-site at all times.
It was agreed that outside the school would be the perfect location. This location is close to the school, the Bill Hawes playing field and close to local residents who live on the Bramley Grange Estate.
The school agreed to purchase the defibrillator by applying for Capital Funding from Ward Councillors and agreed to take ownership of the defibrillator.
Councillors Mills and Councillor Reynolds agreed to fund the entirety of the project using their Capital budget. The cost was £2,300 in total.
This project supports the Bramley and Ravenfield ward priorities, including:
Improving the environment and enhancing community facilities
Bringing people together and improving mental and physical wellbeing
View the ward priorities at: Bramley and Ravenfield ward – Rotherham Metropolitan Borough Council
The Council's Neighbourhoods Team coordinated the project, and the Highways Team installed the defibrillator.
The defibrillator was installed earlier this month and is in full working order.
The project has been a year in the making, but it is a great example of successful partnership working. Ward Councillors, Council Teams, residents, the school and external partners joined forces to provide a much-needed asset for the local community.
Councillor Lewis Mills, Ward Councillor for Bramley and Ravenfield Ward, said:
This project has been a year in the making and I'd like to thank everyone who has worked so hard in making this happen. We hope that nobody ever needs to use it but it's there for anyone that does.
Councillor Greg Reynolds, Ward Councillor for Bramley and Ravenfield Ward, added:
What a fantastic piece of life saving equipment and it's a pleasure to fund knowing that it could potentially save somebody's life. It's been great to work alongside the community to ensure we got the best possible outcome.
Photo caption: Cllr Lewis Mills (left) and Rachel Colquhoun, Head Teacher (right)
Working with you to help build communities that we can all take pride in is a priority for the Council. Find out about news and events in your area by signing up to receive 'News from your Neighbourhood' e-newsletters at: https://public.govdelivery.com/accounts/UKRMBC/signup/13606