Some powers set to return to Rotherham Council
Published Thursday, 17th December 2015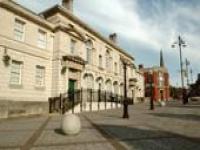 Rotherham councillors are set to take back some decision-making powers from Commissioners.
The decision follows Government agreement that services are of predominantly good quality, well-run and have strong leadership in place.
Housing, education, public health, planning, highways, leisure, cultural services and planning policy – along with control of budgeting in these areas – will once again be under the control of Rotherham Council's Cabinet under the proposals put forward by Government-appointed Commissioners, and likely to be agreed by the Secretary of State, in January.
Other areas – including children's and adult's social care and licensing – will continue to be overseen by Commissioners while improvements continue.
Sir Derek said: "I and my fellow Commissioners are confident that Rotherham councillors are in a strong position to once again take responsibility and accountability for a number of core services, and that the organisation is fit to support them in doing so for local people.
"The Council Leader has shown strong and enthusiastic leadership, as have members of his Advisory Cabinet. Together with Commissioners and officers, they have driven significant improvements across services over the last nine months.
"While the pace of improvement has been good, there is much more to do in some areas. At this time we don't propose to hand back those services which we know are still in need of change and improvement, including children's social care, but we will continue to work closely with the Advisory Cabinet and review this position regularly."
Local people are being asked for their views, and can put forward comments by the end of January 2016.
Council Leader Chris Read welcomed the move, adding: "This is a significant step towards returning local democracy to the people of Rotherham, putting decisions about key local services back in the hands of councillors, and ensuring we are accountable to the public.
"We know that the Council's historical failings are deep-rooted and can't be solved overnight, but we are turning the corner. My colleagues and I are committed to doing all that needs to be done in order to restore the Council that local people deserve and which is fully democratically accountable."
The proposal comes as the council moves towards a permanent senior management team, with new Chief Executive Sharon Kemp to take up her role in February. Appointments to other senior appointments continue. Managing Director Commissioner Stella Manzie – who has essentially fulfilled the Chief Executive role – will leave the authority in February, following a handover period.
Cllr Read is now leading a larger Advisory Cabinet, having recently announced three new members. They will hold their first meeting in public in January, ahead of the proposed return of some powers in February 2016.
The Commissioners' proposals include those services that:
They are satisfied are operating well, with no significant value for money deficits
Are well led by officers, have clear definitions of service quality and plans for further improvements are in place
Have been quality assured by an independent party, such as a Local Government Association Peer Review or experienced interim Chief Officers appointed from outside the authority
Individual councillors are in a position to exercise executive authority over these functions
The full details of the proposed restoration of powers can be found at the Commissioners web pages.
Anyone who wishes to comment on the arrangements to hand back some powers should email commissioners@rotherham.gov.uk. For more information call 01709 255100.
Comments should be received by the end of January 2016.