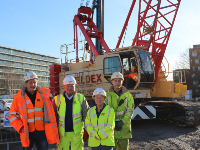 Residents and visitors to Rotherham town centre may have heard a few odd, loud noises coming from Forge Island recently.
They needn't worry; it's just the sound of progress (or more technically, sheet metal pile being driven into the ground to form the new flood defence walls)

This will form part of the next phase of the flood alleviation works along the north & west boundaries of Forge Island. The flood defence wall will also form a backdrop to improved open spaces adjacent to the Canal.

The works are necessary to help deliver the full Forge Island scheme, which will include a cinema, food and drink outlets, a hotel, and a car park, with the new leisure facilities set within an attractive public space and a new pedestrian bridge connecting to the wider town centre.
Rotherham Council's cabinet member for jobs and the local economy, Cllr Denise Lelliott, said: "People may notice more activity and noises on the site as the plans to transform Forge Island continue to move forward. We know residents are keen to see the area develop and it's great to see work progressing on a project which will bring a boost to the whole of the town centre."
Due to the flood alleviation works the footbridge over Rotherham Lock will be closed until further notice. Alternative routes to Forge Island Car Park are available via Bridge Street, Corporation Street (over the footbridge) or Market Street.