Views sought on Rotherham Council's budget proposals
Published Wednesday, 20th January 2016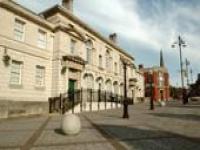 People are being asked for their views on how Rotherham Council proposes to save almost £21m from its budget over the next financial year.
Proposals which affect services that could contribute towards the savings have been considered by the council's Advisory Cabinet and are now out for public and partner comment.
A final package of budget cuts, efficiencies, charges and proposals to change how some services are delivered will be formally recommended next month, prior to the council's budget setting meeting on Wednesday 2 March.
The proposals form part of a three-year forecast which sets out a total funding gap of £48m – additional savings on top of the £117m that the council has had to find over the last five years.
Cllr Chris Read, Leader of the Council, said: "In common with councils across the country, Rotherham faces another big budget challenge this year as a consequence of the government's reductions in grants. At the same time, of course, we are determined to meet our commitment to improve the services we provide to keep our children safe and protected. There are no easy answers, and whilst we want to minimise the impact on the public, clearly this is not always going to be possible.
"In looking at where we spend our money, we have been very clear about our priorities – we remain committed to using our resources to protect our most vulnerable children and adults, and to shield frontline services wherever possible.
"The proposals have already been made public as part of the Council's Scrutiny process – mostly through the Overview and Scrutiny Management Board – and residents, partners and staff are now being formally invited to make any further comments they may have.
"Local people helped us to set out our priorities during the Views from Rotherham consultation last year, and now there is a further chance for people to comment on the detail of these specific proposals, or to contribute other ideas." added Cllr Read.
All the savings proposals put forward support the overall priorities of the council and aim to ensure the council can balance its books whilst continuing to provide services for those most in need. All areas of the councils (so-called "directorates") have been asked to put forward savings proposals in the context of the future of their service:
Finance, Corporate and Central Services – underpinning the delivery of frontline services, Human Resources, Finance, Revenues and Benefits, Procurement, Insurance and ICT services are seeking to address a funding reduction of £2m in 2016/17
Adult Social Care – implementing a wide-ranging programme to modernise care services, review to ensure the people who depend on the service are receiving appropriate support, learn from best practice elsewhere in the country and make it more focused on maintaining the independence of service users in their own homes and in the wider community where appropriate (£3.3m in 2016/17)
Children and Young People's Services –retaining key investments to improve Children's Social Care, protect and increase spending on safeguarding activity to keep children safe, while looking at further options to streamline management costs and also share the costs of education services with schools and academies across the borough (£965,000 in 2016/17)
Environment and Regeneration – where there is a key focus on further efficiencies in management and "back office" services, seeking to preserve the front line services which local people have said are their priority. Specific service proposals also include potential increases in car parking charges; encouraging people to do business with the council online and increasing levels of income and sponsorship where appropriate to help meet costs of service delivery (£2.4m in 2016/17)
Public Health – where the service is seeking to drive out further efficiencies and service changes from their largest contracts with local providers, such as alcohol and drug treatment and sexual health services, to meet expected Government funding reductions of 3.9 per cent a year until 2020
The council has also indicated it would consider using new central Government rules to increase Council Tax by two per cent – over and above the proposed Council Tax increase set out in the council's medium term financial strategy - to support increasing cost pressures in adult social care, which would generate £1.7m per year in Rotherham.
The full range of proposals can be viewed on the council's budget web pages and these will be considered by Full Council at its budget-setting meeting on 2 March 2016.
To comment please email the Community Engagement Team, or alternatively write to:
Community Engagement
Rotherham Council
Riverside House
Main Street
Rotherham
S60 1AE
Please mark your envelope 'Budget Consultation.'
The deadline for comments is 5pm on Friday 12 February 2016.
Email us