Secretary of State plans return of some council powers in Rotherham
Published Thursday, 21st January 2016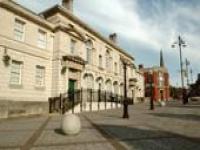 The return of some decision-making powers to Rotherham Council moved a step closer today (January 21).
The return of some decision-making powers to Rotherham Council moved a step closer today as the Secretary of State for Communities and Local Government announced plans to return responsibility for the running of a limited number of services to local councillors.
The Rt Hon Greg Clark MP has written to Chief Executive Sharon Kemp regarding the return of some services to the Council, following the submission of evidence from Lead Commissioner Sir Derek Myers setting out that the identified council services are of predominantly good quality, well-run and have strong leadership in place.
Housing, education, public health, planning, highways, leisure, cultural services and planning policy – along with control of budgeting in these areas – will once again be under the control of Rotherham Council's Cabinet if the Secretary of State decides to proceed with the proposals put forward by Government-appointed Commissioners last November. Other areas – including children's social care and licensing – will continue to be run by Commissioners while improvements continue.
Since November, there has been significant activity to ensure the public have had proper notice of the Commissioners' proposals to restore powers and have had the opportunity to give their views. This has included advertising in the local press, broadcast media interviews, briefings across political parties, and the opportunity to comment via the RMBC website.
The letter to the Chief Executive is the next step in the formal process, and there will now be a period for further comment prior to a final decision being made by the Secretary of State next month (February).
Lead Commissioner, Sir Derek Myers, said: "We are very pleased that the Secretary of State has carefully considered our proposals and at this stage is minded to agree with the Commissioners that the time is right to return some limited powers to locally-elected members.
"While we clearly acknowledge that there is further work to do in some areas if we are to rebuild trust and confidence in the way services are managed and delivered, we would see the restoration of at least some powers as a significant step in the right direction. We await the Secretary of State's final decision."
The Commissioners' proposals include those services that:
They are satisfied are operating well, with no significant value for money deficits
Are well-led by officers, have clear definitions of service quality and plans for further improvements are in place
Have been quality assured by an independent party, such as a Local Government Association Peer Review or experienced interim Chief Officers appointed from outside the authority
Individual councillors are in a position to exercise executive authority over these functions
The full details of the proposed restoration of powers can be found at the Commissioners web pages.
Anyone who wishes to comment on the arrangements to hand back some powers should email commissioners@rotherham.gov.uk. For more information call 01709 255100. Comments should be received by the end of January 2016.