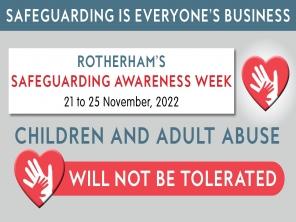 Monday 21st to Friday 25th November 2022 is Safeguarding Awareness Week.
Safeguarding is about protecting children and adults from abuse or neglect and educating those around them to recognise the signs and how they can report their concerns.
Abuse of any kind is not normal and never ok. It can vary from the seemingly trivial act of not treating someone with dignity and respect to serious physical, sexual or financial abuse.
Throughout the week, Rotherham Council and its partners are promoting Safeguarding Awareness through staff training and increasing public information.
For help spotting the signs of abuse in adults see the Rotherham Safeguarding Adults website,
Further information about spotting the signs of child exploitation and how to report concerns is available from the Rotherham Council website.
And a new video presentation on spotting the signs of child exploitation is also now available at the Rotherham Council YouTube channel.