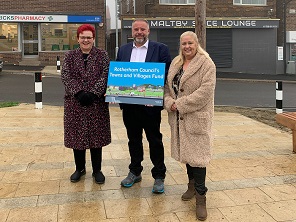 Work has now been completed to improve the parking provision and appearance of Laburnum Parade shops, in the heart of Maltby.
The project is one of 23 schemes to be implemented across the borough over the next two years as part of Rotherham Council's pledge to invest £4 million in smaller towns and village centres as part of its Towns and Villages Fund (TVF).
Previously, a lack of marked parking bays in front of the shops resulted in poorly parked vehicles, causing access issues for both pedestrians and traffic flow.
Following the works the area now benefits from a new car park and parking bays, allowing people to park more safely when using the local amenities.
Other improvements carried out as part of the scheme include installation of CCTV as well as benches and landscaping to improve the appearance of the area.
The scheme is the second project to be completed following the opening of the Greasbrough 'green corridor' earlier this year.
Deputy Leader and Cabinet Member for Neighbourhood Working, Cllr Sarah Allen said: "The TVF allows us to invest in the heart of our communities. The projects chosen aim to develop a sense of place and identity, bring about environmental improvements and most importantly restore pride in our communities."
The scheme for Hellaby and Maltby West Ward supports the ward priority around protecting and improving the local environment. Maltby ward councillors worked with local residents to draw up a wish list of sites they wanted to see developed with the improved car parking topping the list.
Ward Member for Hellaby and Maltby West, Cllr Jenny Andrews said: "I'm so pleased that after so many years of trying, the car park is finally here. The feedback we've had from local residents is amazing. There is now safe parking for well-used shops and it's just made our community."
Ward Member for Hellaby and Maltby West, Cllr Simon Ball added: "As well as car parking we've added to the CCTV in the local area and we're looking to install electric charging points too which fits in with our ward priorities in making sure we look after the environment."
Local shop owner at the The Gift Box, Denise Gillott commented: "The parking scheme is a much-needed improvement, making life far easier for the shops' staff and customers. I have had positive feedback from customers who comment how much better it is."
In total, the Council is working towards implementing 23 separate schemes of a similar scale across the borough over the next two years.
The TVF money has been specifically earmarked for areas of the borough which are not being supported through national Government funding schemes, such as Levelling up and Towns Fund monies.
For more information on all the Towns and Villages fund schemes visit www.rotherham.gov.uk/villages.