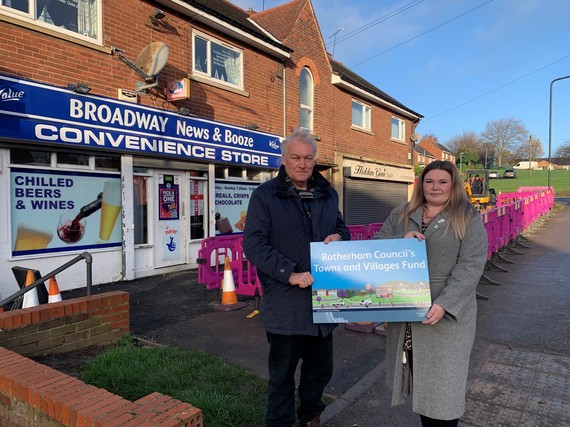 The Broadway shopping precinct in Swinton Rockingham Ward is being improved, thanks to funding from Rotherham Council's Towns and Villages Fund.
Work has now started on-site to enhance the appearance of the shopping area and to make it a more accessible space.
Councillors Wyatt and Monk visited Broadway recently and were delighted to see work underway.
The improvements that will be delivered support the Ward priority around improving the environment. You can view the Ward priorities on the Rotherham Council website.
As works to revitalise and improve Rotherham Town Centre progress, it is important that investment into local centres is also made.
To begin to address this, the Council has committed £4 million to deliver improvements to local towns and villages across the borough. The Towns and Villages Fund scheme will run between now and 2024.
Working with you to help build communities that we can all take pride in is a priority for the Council. Find out about news and events in your area by signing up to receive 'News from your Neighbourhood' e-newsletters.