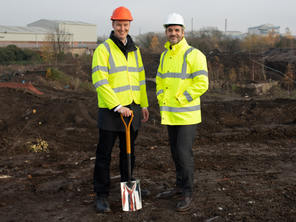 A major scheme to build new vehicular, walking and cycling infrastructure to improve transport connections across South Yorkshire has begun at Parkgate, Rotherham.
South Yorkshire's Mayor Oliver Coppard and Leader of Rotherham Council, Councillor Chris Read joined contractors at the Parkgate link road and Park & Ride scheme – part of the region's £166 million boost to cut congestion and create greener travel choices.
The £12 million investment at Parkgate includes a new link road, footway and cycleway from Aldwarke Lane into Parkgate Shopping (Stadium Way); highway improvements at Taylors Lane roundabout; and a new 300-space Park & Ride facility for the Parkgate Tram Train terminus, including electric vehicle bays.

South Yorkshire's Mayor Oliver Coppard, said: "Fixing our public transport system means making sure we're building the network South Yorkshire needs and deserves.
"This is the beginning of an exciting scheme improving transport links around Rotherham – and will help us create the faster, smarter, greener public transport system we need. We need our trams, our buses and our trains to work together to create a fully integrated system which gets you where you need to be.
"An integrated, 21st century transport network will make our air cleaner, our bodies healthier, our roads safer, and we'll have more money in our pockets given the high price of fuel right now. That's why fixing our public transport network is central to my vision of a greener, fairer and healthier South Yorkshire."
Leader of Rotherham Council, Cllr Chris Read, said: "The Parkgate park and ride scheme is the latest major investment in the borough that we've secured and residents will start to see more visible works taking place in the coming weeks. As well as improving access to the country's first tram-train, the new access road will provide some welcome relief on the congested local road network. Close working between the Council and the South Yorkshire Mayor's office has been key to unlocking this important transport scheme and we're really pleased to have works on site."

Communities in Rotherham, Barnsley, Doncaster and Sheffield are set to benefit from transport, walking and cycling schemes at iPort, a new Tram Train stop and P&R at Magna, rail station improvements and road widening.
Construction of the Parkgate scheme is expected to be complete in December 2023 and open for use in January 2024.