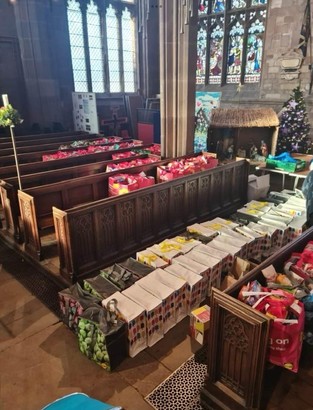 Helping residents with the Cost of Living is a Ward priority for Boston Castle Ward Councillors.
Ward Councillors have supported two projects over the festive period using their Community Leadership Fund.
Social Supermarket delivers Christmas hampers to families
The Social Supermarket asked for donations to help them put together Christmas hampers this year. They received a wonderful response from a wide range of people, including Boston Castle Ward Councillors.
Money was donated to purchase the hampers. Volunteers spent time putting the hampers together and delivering them to recipients. As a result of everyone's kind donations, the Social Supermarket were able to deliver hampers to over 80 families in need.
Canklow Community Tree Blessing Boxes
Volunteers from the Community Tree have put together Christmas Blessing Boxes to hand out to older residents in Canklow.
They asked local people to nominate residents who they felt would benefit from and appreciate a box. The blessing boxes consisted of a small food hamper, and they had help from year 6 pupils from Canklow Woods School, who made cards to go inside the boxes along with collecting donations of food to go inside.
Well done to everyone involved for making this happen.
Working with you to help build communities that we can all take pride in is a priority for the Council. Find out about news and events in your area by signing up to receive 'News from your Neighbourhood' e-newsletters, by clicking here.
Photo caption: The image shows hampers that have been prepared by the Social Supermarket.