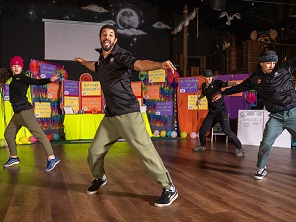 Plans have been unveiled for the next phase of Rotherham becoming Children's Capital of Culture in 2025, winning support from local organisations and influencers.
Over 150 guests gathered at Gulliver's Valley for the Children's Capital of Culture: Making It Happen event last week, to hear young people from Rotherham set out the roadmap to 2025 and a manifesto to ensure a lasting legacy for the borough.
Local artists including hip hop and breakdance act Rationale Arts, rapper Kid Blu3e, theatre students, skaters and BMXers took over the popular children's theme park with impressive performances on the night.
Rotherham resident Christopher Badger, 25, who was one of the Children's Capital of Culture trainees in 2022, explains: "The turnout was beyond our expectations and the reaction from everyone was overwhelmingly positive. We celebrated everything that's happened so far and the amazing impact it's had on people like me, and looked ahead to what's next. We've made so much progress since launching the journey, and now we need everyone to get behind it and really make 2025 an epic year for Rotherham."
The Children's Capital of Culture team announced the commission of two new Young Artists in Residence, who will work with them for six months this year. Four local young people will also have a golden opportunity to work alongside Rotherham Music to deliver partnership projects with Children's Capital of Culture, including a genre-busting programme of music events during February half-term. And a partnership has been agreed with Flux Rotherham and Wentworth Woodhouse to offer paid traineeships to fifteen local young people, which will equip them with life-changing skills and experience.
In addition, after the huge success of the Children's Capital of Culture launch programme in 2022, it was revealed that sell-out cultural events will return to Rotherham in 2023. This includes UPLIFT: Rotherham Skate and Arts Festival, which will take place from 5–7 April, with a town takeover of skate and BMX demos, pop-up skate parks, a roller disco, bands, DJs, food stalls, a young makers' market, creative workshops, and more. WoW Rotherham will also return on 9-10 June, with an accompanying WoWsers programme that will support Rotherham's young people to plan and create their own events and activities at the festival
Children's Capital of Culture Programme Manager, Sarah Christie, explains: "The ultimate goal of Children's Capital of Culture is to support more children and young people across the borough to create a bolder, more ambitious and creative future for themselves, increasing overall pride and aspiration in our borough and nurturing a skilled young workforce that can make a real difference to Rotherham's future.
"Last year's launch programme was a huge success. As we move into the next phase in 2023, we are building it further, introducing more skills programmes for more young people, and working with more communities to come up with cultural event ideas that celebrate the talent and diversity of Rotherham.
"It was great to see so many local businesses, organisations, individuals and schools in the region show up for Rotherham, and pledge their support for our young people."
First year at a glance
Between August 2021 and July 2022, we:
Ran activities for young people that had 99,057 participants
Teamed up with 57 schools and colleges
Employed 57 young trainees, 14 of whom were care experienced and 70% of whom went on to gain further jobs or training in the borough
Trained 19 professionals as Arts Award Advisors
Worked with 346 artists and organisations
Talked in depth with 1,330 people aged 3 to 73, but mostly children and young people, about what they want for Rotherham in 2025.
Aims for 2023 and 2024
Run activities with over 250,000 participants – children, young people, their parents and carers and wider communities
Recruit at least 80 16–25-year-olds to work as trainee Creative Producers with organisations across the borough
Start developing 12 projects for 2025
Build partnerships with at least 25 schools – one in each ward – to develop creative programmes
Train and mentor at least 10 young artists in residence
Work with 450 artists and organisations, with 30% of them coming from Rotherham.