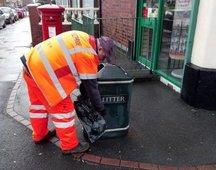 The Council has published budget proposals for the next financial year, including more money for street cleaning and social care, but warns the authority still faces a challenging financial position.
The Council has made savings of £200 million since 2010 as a result of reductions in its main grant funding from Government whilst the number of vulnerable children entering care and older people requiring social care has risen steeply.
Last year, the Council set out a two year budget plan covering 2019/20 and 2020/21. This included £30 million in spending reductions to be phased in over two years. As part of the plans set out last year, the Council signalled its intention to increase Council Tax by 2.99% this year. Today's proposals confirm the intention that the rise will be split across 2% on the government's Adult Social Care Levy and 0.99% on general council tax.

The overall council tax rise is lower than the national 4% cap, and lower than most councils that have set their bills so far (1).
However, careful planning will allow the authority to invest more in some services and infrastructure in the next 12 months, in answer to priorities identified by residents.
Councillor Chris Read, Leader of Rotherham Council, said: "Ten years of austerity continues to take its toll on the Council, with boroughs like ours being particularly hit hard. There still remains a great deal of uncertainty about the direction of the new Government when it comes to funding local services, making it difficult to make long-term financial plans.
"I welcome the fact that the government has made one-off additional funding available to councils this year; that money will be spent entirely on Children's and Adult Social Care in Rotherham. Whilst we do not have to make further cuts beyond those announced in our two year plan, even with the additional government funding and using the Adult Social Care Levy, overall the council still has to make cuts and savings this year."
The extra Government funding provided this year for adult social care and a Social Care Levy of 2% will provide £10.55 million, contributing to the additional £10.79 million that the Council is budgeting for social care for the most vulnerable residents and families this year.

Cllr Read added: "Despite the on-going financial pressures, because of the tough choices we made last year we are now able to respond to some of the concerns that residents have put to us. So we are proposing more funding for Streetpride services that benefit all our communities, more weed clearing, and making sure our operatives have the equipment that they need. We continue to propose major capital investments to improve the borough's roads, and to invest in all our libraries. And we are now in a position to propose some additional funding for more youth work across the borough, engaging our young people and keeping them away from harm."
The Cabinet will also consider a range of revenue and capital investment proposals to tackle priority issues identified by the public. Those proposals include:
A £1.7m package of investment in Streetpride services: funding annual cleaning of main roads and weed removal, a major replacement programme for public little bins and opening he borough's four household waste recycling centres seven days a week, rather than the six days they open at present.
A £24 million capital programme to further improve the condition of the borough's roads over the next four years, doubling the amount currently being invested through the current successful 2020 Roads Programme.
Funding the programme of investment in every library in the borough as recently set out in the new draft Library Strategy
£70,000 for additional outreach youth work, funding street-based youth work in every part of the borough to engage more young people
£100,000 to provide a seven nights a week noise nuisance service to tackle anti-social behaviour
£100,000 to fund additional Customer Services staff to help reduce telephone and face-to-face waiting times when residents contact the Council
£233,000 to forego a planned reduction in the Council's contribution to the SYPTE levy, to help to protect three key bus routes in the borough
A £254,000 capital investment in Herringthorpe athletics track to undertake essential works and prevent closure of the facilities.
The Council's Cabinet will meet to consider its 2020/21 budget on Monday 17 February, with the final decisions made by the Council meeting on Wednesday 26 February.
View the Cabinet agenda, including budget proposals
(1) 26 of the 30 councils surveyed by the Local Government Chronicle last month indicated that they would raise both council tax and the Adult Social Care Levy by the maximum combined total of 3.99% in their forthcoming budgets. A further one was proposing a total 3.8% rise.