Rotherham Council ratifies economic devolution proposal for the borough
Published Thursday, 3rd March 2016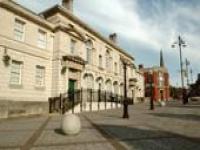 Rotherham Council has formally ratified the proposal for the Sheffield City Region economic devolution agreement.
The deal paves the way for £900m of additional funding and more power to make important decisions locally.
The proposal was officially backed by a meeting of the Full Council on Wednesday 2 March following consultation with local people on the deal with Government.
Cllr Chris Read, Leader of Rotherham Council, said: "This decision is welcome. It moves us another step closer to securing all the benefits which this deal will bring to Rotherham, and is a measure of our ambition to be one of the first places in the country to be making important economic decisions for ourselves rather than depending on London.
"At its heart is the creation of more jobs and better infrastructure.
"It will allow us to build on and maximise some of our world class assets, including the Advanced Manufacturing Park, and will contribute to our Growth Plan target to create 10,000 new private sector jobs in Rotherham over the next ten years."
Barnsley Council and Doncaster Council have also both officially ratified their deals, with other local authorities in the City Region due to consider the proposals this month - with the aim of the proposal being agreed in full in March.
Nigel Knowles, Chair of Sheffield City Region LEP, said: "It is welcome news that Rotherham Council is fully supporting the devolution deal. This deal will enable public and private sector leaders to continue to work together to strengthen businesses and create more and better jobs for people in Sheffield City Region."
Other benefits of the proposed deal for the borough include:
Creating the ability to control buses in Rotherham, and a regional 'Oyster card' style smart ticket which will mean that people will be able to use the same ticket between different buses, trams and trains
Giving more local control over funding for skills and training
Support the further development the Advanced Manufacturing Park (AMP)
Creating more funding for affordable housing
Bolstering the borough's profile amongst overseas investors – outside of the AMP, over 100 overseas companies have already invested in Rotherham
Supporting the ongoing regeneration of the town centre
More local-decision making over how European funding is spent
Subject to ratification of the devolution proposal by all relevant authorities and the SCR Combined Authority, and the making of an Order by Parliament, the first election of City Region Mayor will take place in 2017.
The borough is also set to benefit from the development of local educational bases, including a £12m higher education campus in Rotherham with places for 1,000 students, and also access to the HS2 college which will train hundreds of local people for jobs befitting directly from the development of the high speed rail.
For more information about the deal visit www.sheffieldcityregiondevolution.org.uk
Visit the Sheffield City Region Devolution website