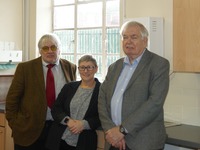 A community centre once earmarked for closure has undergone a ten thousand pound transformation and is throwing open its doors to local clubs and groups.
Rotherham Council's Housing Service joined forces with local business owners to bring Oaklea Retreat in West Melton back to life.
The Council installed new storage heaters, flooring and chairs while the business community helped by clearing away old furniture and equipment as well as helping to relay flooring.
Councillor Denise Lelliott, said: "I'd like to thank all of the local businesses that have helped transform the centre and renovate a building that has the potential to be an important resource for the area. The idea was supported by Local Councillors as we wanted to see the building brought back into use and is a much needed facility for the Community.
"Like any community facility its success is measured by the number of people that use it and we'd encourage any local groups that are in need of a space to get in touch."
The idea for the scheme came from Cortonwood Comeback Centre's Advice Worker Shelley Shaw.
Shelley said: "The renovation of the building is great news for the community. A number of events have been held at the centre in the past including parent and toddler groups, sewing and craft sessions, and dancing classes. We hope the update to the facilities will encourage even more people to come forward and use it."
Any local groups interested in using the venue can contact 01709 822824.