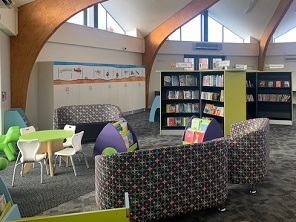 Rotherham Council is trialling a new service at two of the borough's libraries, which will enable the popular sites to open for longer, outside of normal staffed hours.
The service will allow for Mowbray Gardens Library and Neighbourhood Hub and Brinsworth Community Library to have the functionality to be able to open on a self-serve basis at specific times when the libraries would normally be closed.
The self-service technology called Open+, is used by libraries up and down the country and will be trialled following consultation with users and local residents, which was carried out in order to develop the current Library strategy.
The technology will be installed first at Mowbray Gardens. The Library will be therefore closed to customers from Monday 13 March, reopening on Monday 20 March to allow for works to take place.
Customers wishing to use library services during the closure can use any of the other 14 libraries across the borough. A full list, including opening times, can be found on the Council's website - www.rotherham.gov.uk/libraries
Alternatively, people are encouraged to visit the online library to renew and reserve a book, or to borrow an e-book, e-magazine or e-newspaper.
Cllr Sheppard, Cabinet Member Social Inclusion said: "At a time when many other Councils are having to close libraries, we are delighted to introduce a new service which enhances the library offer and provides the opportunity for the library to be accessible to our residents for more hours each week"
Once installed, the new service will allow customers to access the library building during Open+ hours to borrow and return books, pick up reservations, meet up with community groups, use the PCs to browse or print, log on to public WIFI and relax in a warm space.
To access the online library visit - www.rotherham.gov.uk/libraries
To keep up-to-date with news from Rotherham Libraries news visit - www.facebook.com/RothLibraries
For further information email the Libraries team - e-libraries@rotherham.gov.uk