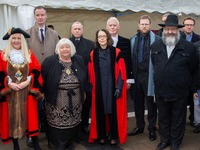 Crowds gathered in All Saints Square on Monday 27 January to remember those murdered in genocides at Rotherham Council's annual Holocaust Memorial Day event.
A range of dignitaries including the Mayor of Rotherham, Chief Executive of Council Sharon Kemp, and Leader of the Council Cllr Chris Read, welcomed members of the public and religious leaders with a range of speeches about past atrocities.
This year the Holocaust Memorial Day focused on the theme of 'Stand Together' and explored how communities can unite to speak out against persecution and challenge hostile behaviour to minority groups.
Amongst the speeches, choirs from St Bernard's Catholic High School and St Ann's Infant and Junior School sang a selection of songs based around this year's theme. Local song singer, Nic Harding, also sang a song about standing together which she wrote together with young people from Rotherham's YMCA.
Council Leader Cllr Chris Read, said: "It is important that we learn from the horrors of the past so that we can work to stop such events from taking place again. On Holocaust Memorial Day, we not only remember those who were killed in the Holocaust and other genocides, we also pay tribute to those who survived and those who worked to save others. In Rotherham, we are lucky to have a diverse community with many strengths and by hosting events like this we can celebrate that diversity which, in turn, helps us to eradicate hate."
Rotherham Council has hosted a Holocaust Memorial Day event for the past five years, inviting local dignitaries, clergy and artists to contribute.
The event also marked the 75th Anniversary of the liberation of Auschwitz-Birkenau by Russian soldiers. It was also the 25th Anniversary of the genocide in Bosnia where over 8,000 Muslim men and boys over the age of 12 were murdered in the town of Srebrenica. It became the largest incidence of mass-murder in Europe since World War Two.
Regional Board Member for the national charity Remembering Srebrenica, Richard Bartlett, said: "Holocaust Memorial Day and other genocide remembrance events are a stark reminder of what happens when communities give in to hate. It is especially important when, in the UK, the number of hate crime incidents has risen by 40% in the last year with the vast majority of these crimes being classified as 'race hate'.
"But those that have sought to divide communities have not succeeded. Even during genocides like the Holocaust, you hear stories of people hiding their neighbours from harm at extreme risk of their own lives. Down to the resolve and determination of communities who, regardless of their differences, stand together to build bridges, we have hope that we can confront hate."
Holocaust Memorial Day has taken place in the UK since 2001. Events on the day include a UK Commemorative Ceremony and more than 10,000 local activities taking place on or around 27 January each year.
Holocaust Memorial Day Trust (HMDT) is the charity established and funded by the UK Government to promote and support HMD in the UK.
HMDT's Chief Executive, Olivia Marks-Woldman, said: "This event in Rotherham is an important part of the national picture for Holocaust Memorial Day 2020. There are thousands of events taking place for this significant occasion, marking the 75th anniversary of the liberation of Auschwitz-Birkenau.
"Today our world often feels fragile and vulnerable, with widespread prejudice and the language of hatred needing to be challenged in the UK. Now more than ever, we need to stand together with others in our communities to stop division and the spread of identity-based hostility in our society."