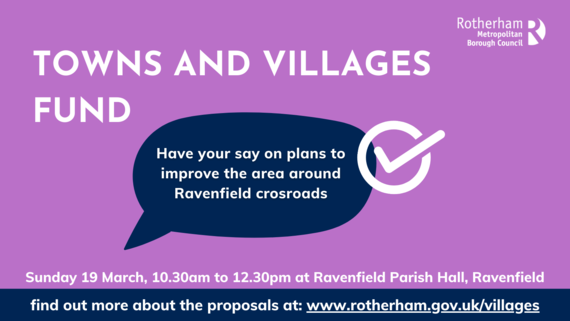 Come and join us at Ravenfield Parish Hall on Sunday 19 March, between 10.30am and 12.30pm to have your say on plans to improve the area around Ravenfield crossroads. 
Improvements can be made thanks to the Council's Towns and Villages Fund. The Towns and Villages Fund is a £4 million commitment from Rotherham Council to invest in Rotherham's local towns and villages across the borough. The scheme will run between now and 2024.
As works to revitalise and improve Rotherham Town Centre progress, it is important that investment into local areas is also made.
The investment supports the Bramley and Ravenfield Ward priority of improving the environment and enhancing community facilities.
Bramley and Ravenfield Ward Councillors, the Neighbourhoods team and the Towns and Villages team will be available to talk through the plans and listen to any feedback, or ideas you may wish to share.
For more information, or to take a look at the plans, please visit the Rotherham Council website.
Come along and have your say.
Working with you to help build communities that we can all take pride in is a priority for the Council. Find out about news and events in your area by signing up to receive 'News from your Neighbourhood' e-newsletters, by clicking here.